The first British Vogue cover since Edward Enninful took charge of the fashion magazine has been released. The cover features mixed-race model and feminist activist Adwoa Aboah with the headline "Great Britain", sending a strong message about Enniful's mission as the new editor-in-chief.
"My Vogue is about being inclusive. It is about diversity — showing different women, different body shapes, different races, different classes [and] tackling gender," Enniful said to the BBC.
The December cover not only makes a statement about diversity through the British-Ghanaian model, Aboah, 25 but is unlike any of its predecessors in its entire design. There are no cover lines about fashion trends or beauty tips. Instead, there's a list of icons from diverse fields like music, arts and politics including Sadiq Khan, Salman Rushdie, Steve McQueen and Zayn Malik.
The previous regime under Alexandra Shulman had received criticism from many corners for its lack of diversity. Between Naomi Campbell in 2002 and Jourdan Dunn in 2014, British Vogue had no solo black model on its cover.
After 25 years at the helm, Shulman stepped down as the editor-in-chief in August this year in order to pursue "a different future".
Enniful, who was a surprise choice for the top job, is the first male, first black and first gay editor in the history of Vogue.
He had vowed to usher in the much needed change at the magazine, previously accused for having an all-white staff. "You are going to see all different colours, shapes, ages, genders, religions," Enniful promised.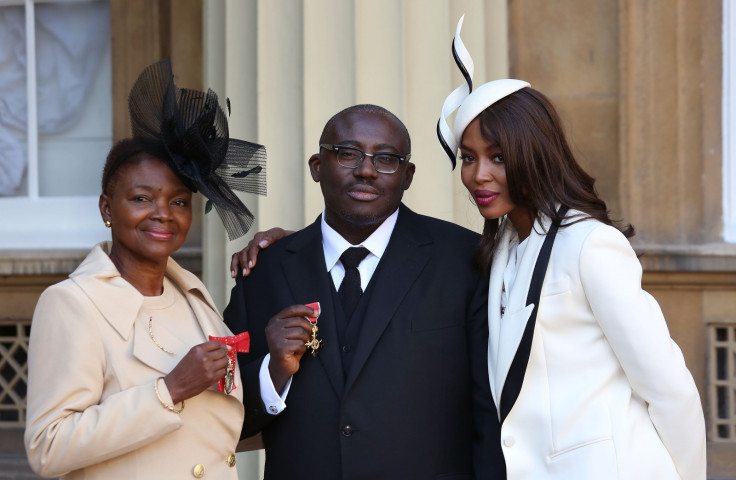 Aboah sports a retro look on the new cover page wearing a silk dress by Marc Jacobs. British make-up artist Pat McGrath is behind the vibrant look and Enniful has chosen Steven Meisel, as the photographer. The two had earlier collaborated with Enninful on Italian Vogue's all-black issue of 2008.
"My head's going this big. Being on this cover is the biggest thing that's happened in my career," the Daily Mail quoted Aboah, 25, as saying.
"There is this newfound love and space for activism within fashion. I never would have dreamt in a million years that I would have young girls coming up to me at Glastonbury or on the streets of LA, New York, London, and telling me how much GurlsTalk [an online platform she heads] or seeing my picture in a magazine means to them, as a woman of colour.
"I love being a mixed-race woman in 2017. I feel part of something big. There's this understanding that we're all in it together."
Aboah has already graced the covers of American and Italian Vogue. She has also been shortlisted for model of the year at next month's British fashion awards.
Contributing editor and Enninful's friend Naomi Campbell applauded the new cover along with celebrities like Victoria Beckham , Cheryl and Gwendoline Christie.
The new edition will be on newsstands this Friday. Along with a 14-page editorial shoot with Aboah, the issue also has an interview with Enninful and the model, where they speak about diversity in fashion and what it means to be Black and British in today's time and age.