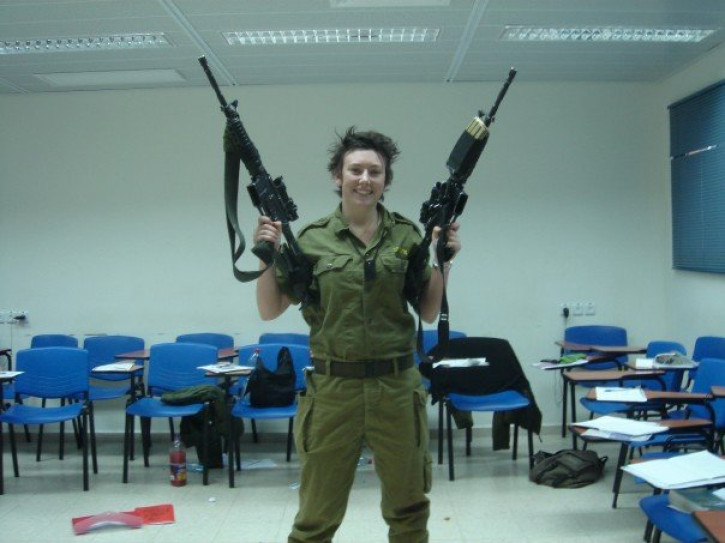 A Canadian-Israeli woman who made the headlines for being the first foreign female fighter to join the ranks of the Syrian Kurds in their battle against the Islamic State (Isis) has returned to Israel apparently because of growing Iranian power in the battlefield.
Gill Rosenberg, 31, told Israeli media that the involvement of the Islamic Republic in the war-torn country has increased dramatically compared to when she started fighting with the Kurds at the end of 2014.
"I think we as Jews, we say 'never again' for the Shoah, and I take it to mean not just for Jewish people, but for anyone, for any human being, especially a helpless woman or child in Syria or Iraq," Rosenberg told Israel's Army Radio."But in the past few weeks I think a lot of the dynamics have changed there, in terms of what's going on in the war. The Iranian involvement is a lot more pronounced. Things changed enough that I felt that it was time to come home."
The Canadian-born left her Tel Aviv house in November 2014 and reached Erbil, the capital of the semi-autonomous Kurdistan region of Iraq. From there, she started fighting with the Kurdish YPG in its deadlocked battle against IS. She was asked not to reveal her Israeli citizenship as the YPG is known for its pro-Palestinian tendencies.
"The Kurds love Israel. They love Israel and they love the Jewish people. But among the ranks of the YPG there's also local Arabs and other people that might not be such big fans of Israel," she said.
Then, she moved on to fight with the Dwekh Nawsha, a Christian militia in iraq.
"They [the Kurds] are our brothers. They are good people. They love life, a lot like us, really," she told Israel Radio at the time
Rosenberg, a civil aviation pilot, reportedly grew up in White Rock, near Vancouver, British Columbia before relocating to Tel Aviv, where she enlisted in the Israeli army search-and-rescue unit.
She told Ynet news that the most difficult part was experiencing the humanitarian crisis deepening in the area. Rosenberg said: "It's a country at war. There are three million refugees scattered across the country, most of them women and children. There is immense suffering and it's difficult to see them in that situation."
She was questioned by Shin Bet, Israel's internal security agency, after her arrival in Tel Aviv but any prosecution from Israeli authorities looks unlikely. However, she could face trouble with the US authorities for violating parole conditions.
In 2009, Rosenberg was arrested in Israel over an international phone scam and extradited to the US, where she served time in prison.
The FBI accused her being part of a gang running "a phony 'lottery prize' scheme that targeted victims, mostly elderly", according to her case file. Another 11 people were arrested for their alleged involvement in the scheme.
Rosenberg was released in 2013 on condition that she remain on parole either on US or Israeli soil. Her escape to join Kurds in Syria may cause a problem for her. US officials are looking into the case.