Glastonbury Festival may have to move somewhere more practical if it continues to grow, says site owner Michael Eavis speaking ahead of this year's event which is expected to attract 135,000 revellers.
Eavis, who owns Worthy Farm at the centre of the site, has admitted that organising the five day festival has become "very, very complicated."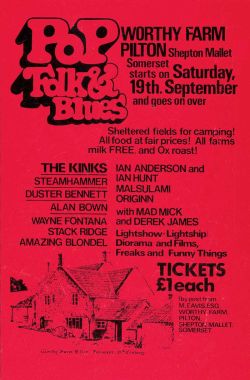 The first festival, in 1970, attracted around a thousand people each paying £1 to attend - which included free milk from Eavis's farm. Now a basic ticket costs £225 and the event has been transformed from a muddy field into a patchwork of muddy field incorporating shops, bars, ATMs and corporate areas.
The growth of the festival, which for decades has attracted the biggest names in world music, is part of the problem, but to make matters worse, Eavis only owns the centre of the site, where the famous pyramid stage sits.
"I'm always worried about the future, about the land not being available because I only own the middle bit," Eavis told Sky News.
"I may have to find a site that's bigger and is all under the control of one person. That's the ideal situation, so that might happen in the long-term."
Eavis revealed he is looking at a number of alternative venues, but refused to reveal where they are.
However, he said, "All good things come to an end and one has to make changes. I would love it to stay but it's getting very, very complicated now."
This year's festival features a line-up including The Who, Florence and the Machine (replacing the Foo Fighters following Dave Grohl's leg break) and Kanye West, whose invitation reportedly led to death threats for Eavis's daughter Emily. It all seems a long way from 1970, when acts included Steamhammer, Wayne Fontana and headline act The Kinks. Whatever happened to them..?