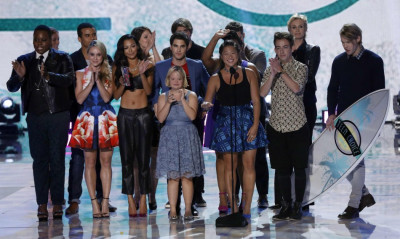 Glee will be shooting the rest of its fifth season entirely in New York.
Fox entertainment Chairman Kevin Reilly confirmed the news at the Television Critics Association's Winter Press Tour.
"Some are going to be graduating and moving; creatively, it would be ridiculous that everybody moves to New York," he said, but did not reveal which characters will make the move.
"There will be some that will graduate and move on and they'll arc back in when we do special episodes. They'll always be a part of it. The way it's going to dovetail next season, we'll see some familiar faces coming around in some capacity. But for this season, there will be a graduation, several of the castmembers will move on and a few others will go to New York."
"As long as there's a show, there's Jane (Lynch)," he said. "We're not going to be in Ohio anymore the rest of this season."
The show's creator Ryan Murphy had previously confirmed that the hit musical TV series will finish after the next season following the death of its lead star Cory Monteith.
He had to come up with a new finale because his original plan was to centre on Finn, played by Monteith, and Rachel, played by Lea Michele.
"We do have it through next season, and that will be its final season," Reilly said, adding that Murphy has "got some fantastic ideas on what we're going to do next year for the final year."
Monteith, 31, died from an overdose of heroin and alcohol in July. He was found dead in a Vancouver hotel room with two empty bottles of champagne. He had struggled with drug and alcohol in the past.
Glee returns on 25 February on Fox.