Former Australian cricketer Glenn McGrath has been inundated with abuse after pictures of the once-feared fast bowler posing with dead safari animals emerged on Twitter.
McGrath, one of Australia's greatest bowlers of all time, was pictured with a dead water buffalo, as well as hyenas and an elephant, during a safari holiday in Zimbabwe in 2008, shortly after he retired from test cricket.
In all three images, McGrath is smiling and holding a gun while standing or crouching over the dead animal.
The pictures were uploaded to Twitter after being published on the website of Chipitani Safaris, a Zimbabwe-based tour company, according to the Guardian.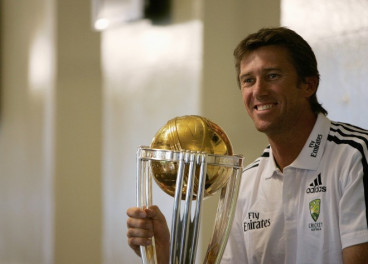 The photos have since been taken down from the Chipitani site. However, they spread rapidly on Twitter and immediately brought a barrage of condemnation, much of it directed at McGrath personally.
In response, McGrath used his own Twitter account to issue an apology for the photos, saying: "In 2008 I participated in a hunting safari in Zimbabwe that was licensed and legal but in hindsight highly inappropriate."
McGrath continued by alluding to the loss of his wife Jane, who died from cancer in June 2008, an event which prompted him to create an eponymous cancer foundation in her memory.
"It was an extremely difficult time in my life," McGrath wrote, "and looking back I deeply regret being involved."