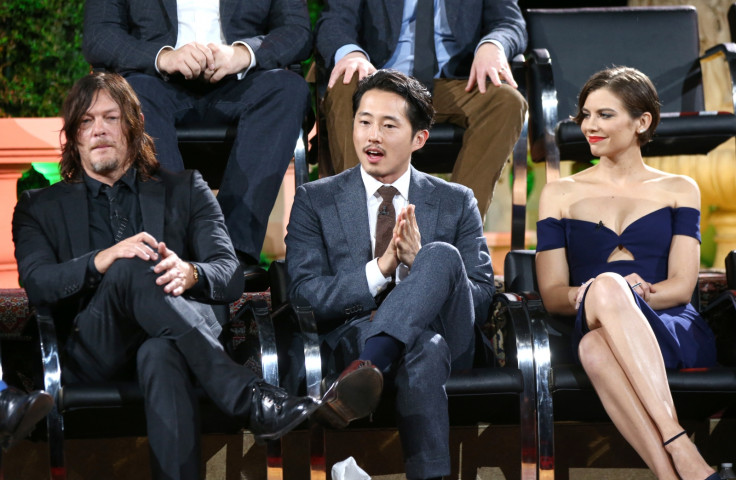 The Walking Dead season 6 was a major let down, but the premiere episode has had a lasting impact on fans as it featured Glenn's death at the hands of villain Negan.
Steven Yeun, who plays the iconic character in AMC's zombie series, has opened up about the gory death.
Fans were heartbroken with the way Glenn died and Yeun thinks it's sweet of them to still feel sad about the season 6 premiere event. "It's been over a year and everybody is still so cool," he said during Walker Stalker Con in the Music City Center in Nashville, Tennessee.
"They're so sweet and they're very sad about the death but that's awesome. I think the coolest part about the death in and of itself is, I don't know if there's ever been a character like Genn before in any facet, in the way he walks and the way he talks, ... to have died and to have in death such a lasting impact. I think it's like awesome. I think if Glenn were to continue, he could at some point fade into the back but there's this great explanation point."
The 33-year-old actor, however, still feels sad that he had to exit the show. "It's hard to leave family after seven years of being together but also it feels very complete. Something needed to happen to propel this next season," he added.
Steven entered Walking Dead in season one episode two titled Guts, where he rescues Rick Grimes from a herd of zombies, and became an integral of the series over the years. It has been almost a year since Glenn was bludgeoned to death by Negan who used a wire-wrapped baseball bat.
The actor revealed that he knew of the death two years prior to the season 7 premiere, but had kept it a secret. "I'm sure there were points like, 'Oh, crap, am I gonna die this year?' There was a little bit of worry but I just was really having a good time doing it. I actually found out I was gonna die almost two years before it happened."
However, he was careful not to leak any spoiler, and considering the outpour of love that he is receiving from his fans, Yeun thinks the silence was worth it. "It was like, not talked about. It was unsaid but it was understood...You look at that journey and you realise, that is marked in such a dramatic way that to change it, I think, is a cheat. We did it and people remember it, so that's cool," he said.