Sony Santa Monica may be taking its God of War series away from Greek mythology for the very first time, instead setting series protagonist Kratos loose on Norse mythology; the home of Thor, Odin and the realm of Valhalla.
This is only a rumour for now, but it comes from trusted and proven industry insider Shinobi602, who tweeted simply: "Across the rainbow bridge... to the halls of Valhalla. My boy. #GodofWar4." There were no follow-up tweets explaining more.
Around the same time a collection of alleged concept art was also published by Nerd Leaks (via Gematsu), but mysteriously – not long after publication – the site was taken down by hackers, who warned the site not to leak any more information (via Pure PlayStation). Strangely, the site's Twitter account has also been deleted.
The concept art is supposedly the work of former Sony Santa Monica artist Finnian MacManus, and includes a glimpse of a bearded Kratos. The art is found in a private section of his portfolio website. His primary site has also been deleted it seems, but other examples of his work can be found here at Art Station.
MacManus worked as a design intern at Santa Monica from May to August 2015 before being employed for an additional four months between September and December 2015.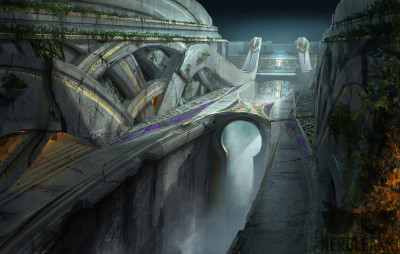 It's easy to assume that Nerd Leaks being brought down is the work of Sony, throwing some of its weight around after the alleged leak of a project many assume to be in production, but which has yet to be officially announced. However, this is extremely unlikely as no such action has been taken before following leaks of Sony products, and it would be a PR disaster if news of it got out.
The God of War series began on PS2 in 2005, spawning two sequels in 2007 and 2010, and numerous spin-offs including handheld titles for PlayStation Portal and Vita, as well as God of War: Ascension, released in 2013. God of War 3 was remastered for PS4 in 2015.
The games tell the story of Kratos, who sought vengeance against the Greek Gods after his family was murdered in front of him, and his skin was stained with their ash. It seems Kratos still hasn't been given the hug he so clearly needs.