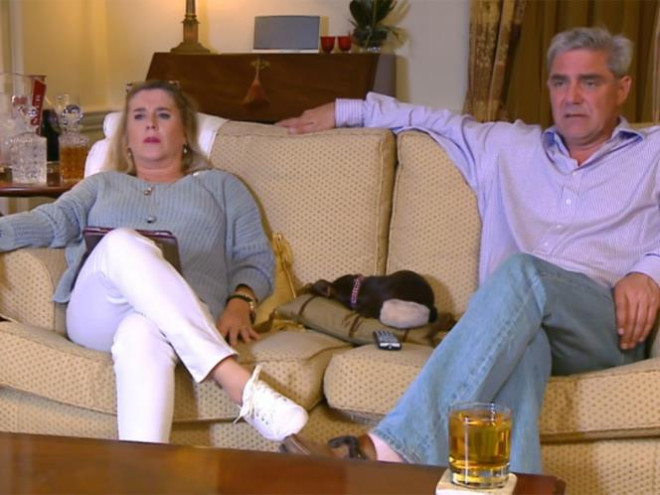 Gogglebox fans will be shocked to hear stars Dom and Steph Parker hired out their mansion for a masked orgy.
Sixty super-rich swingers arrived in dinner jackets and cocktail dresses and enjoyed champagne and oysters at the £3.5 million Salutation Estate – which features the Bafta-award winning programme - before the all-night frolics began.
The boozy pair, who have become popular with the show's viewers, were not at home when it was taken over for the sex party, according to reports.
It was hired for £1,700 by the Killing Kittens private club, which is run by Kate Middleton's school friend Emma Sayle.
Sayle boasts she has politicians, footballers and supermodels among her well-heeled members, who are not allowed into her parties unless they wear masks to protect their identity.
In a report in The Sun, it said luxurious bedrooms had been turned into "playrooms" where guests could join in or watch a group orgy.
Beds were stripped down to just a sheet and condoms were placed in decorative bowls on the side tables.
The report stated: "Most of the partygoers, dressed in dinner jackets and cocktail dresses, enjoyed champagne and oysters in Dom and Steph's 3.4 acres of grounds before the saucy antics began.
"Witnesses said one grey-haired man had sex with his partner wearing only his socks while others got involved nearby."
Another couple romped on an antique-style rocking horse while revellers watched.
Two small glasses of white wine cost £17.40 but no red wine was allowed to protect carpets at the Grade 1 listed property.
The owners, who drink wine while reviewing the week's telly on Gogglebox, are thought not to have known about the party.
A spokesman said: "The Salutation is frequently hired out for corporate bookings and with this sort of hire arrangement Dominic and Stephanie would not be aware of specifics of the event.
"We can confirm they were not at The Salutation over the dates mentioned."
The Parkers hire the whole estate in Sandwich, Kent, for £3,115 per night. It is described as "a fine place to stay" on their website.
Gogglebox, which has won a Bafta, attracts 2.7 million viewers, making it one of Channel 4's biggest shows.