Google celebrated the father of surfing Duke Kahanamoku's 125th birthday on 24 August with a doodle. A Hawaiian, he is credited with bringing surfing to the United States and popularising it around the world.
Besides surfing, Kahanamoku wore several hats during his lifetime. He was also a competition swimmer, an actor, sheriff of Honolulu, early beach volleyball player, and a businessman.
He acted in nearly 20 films, playing roles such as an Indian chief, lifeguard, Turkish sultan and wild animal trainer, and played himself in two documentaries. A five-time Olympic medallist in swimming competitions, he was dubbed the king of all swimmers, and known as the Big Kahuna.
The Google Doodle features a 16-foot wooden surfboard along with Duke's trademark wide grin. Duke served as an ambassador for the Hawaii, US and helped the islands gain statehood.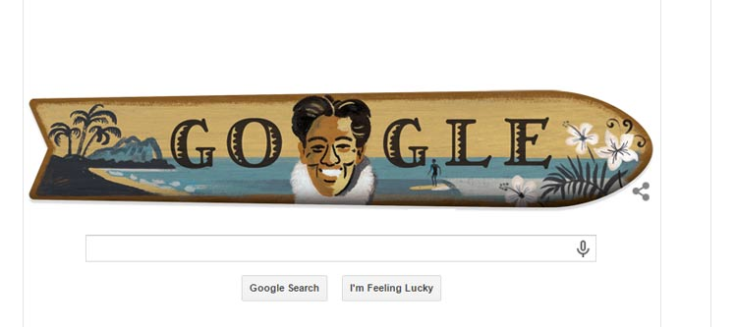 Kahanamoku won countless surfing trophies and medals in swimming. He was one of the fastest swimmers and once rode a wave for more than a mile in Waikiki.
While living in Newport Beach, California, US, he rescued eight fishermen from a fishing vessel that had capsized. Duke, who was at that time surfing with a friend, used his surfboard, to make quick trips back and forth to shore to rescue the fishermen.
There is a bronze statue at Waikiki beach in Honolulu to honour his memory. Kahanamoku died of a heart attack at the age of 77.