Google Nexus 4: Teardown Reveals Insides of New Nexus

iFixit has conducted a teardown analysis of the new Google Nexus 4. The LG-manufactured Nexus smartphone is heavier, thicker and wider than the third-generation Galaxy Nexus made by Samsung. Tearing the new device apart uncovered some interesting features.
When dismantled, the first point is that the battery - a 2100mAh device producing 3.8V - is much harder to replace than the one in the previous model. Incidentally, this is the same sized battery found in Apple's iPhone 5, although LG manufactures the battery itself. The back of the phone's case contains circuitry necessary for wireless charging, though no wireless charger is supplied with the phone.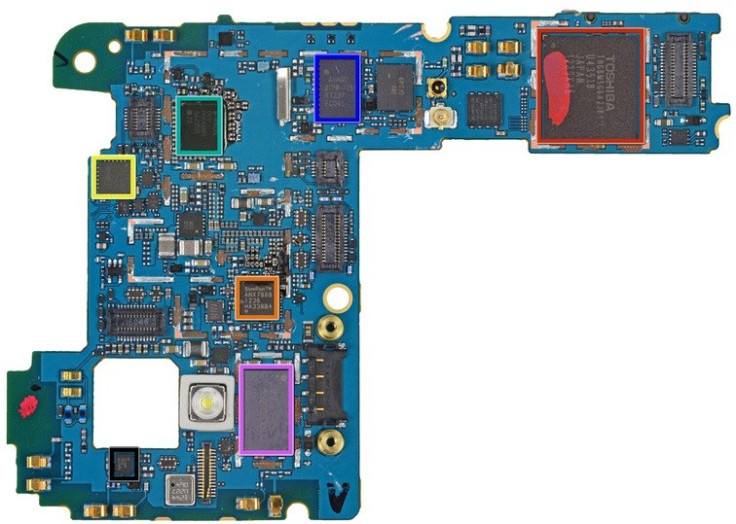 The motherboard houses the eight megapixel rear-facing camera (AC2AD D5A261), which can be easily removed, leaving a squarish hole (above). The front-facing camera is codenamed Y411A and leaves a small, circular hole (above). The front of the motherboard has the following components:
Toshiba THGBM5G6A2JBA1R 8GB flash memory
SlimPort ANX7808 SlimPort transmitter (HDMI output converter)
Invensense MPU-6050 Six-Axis (Gyro+ Accelerometer)
The other component on the motherboard is an interesting anomaly. The Nexus 4 does not support 4G networks. But a Qualcomm WTR1605L seven-band 4G LTE radio chip, found on the motherboard, reportedly does; the same chip is likely to be adopted in the LG Optimus G.
However, the breakdown suggests there is no LTE power amplifier on the motherboard - which converts electricity into radio waves for 4G. Instead, the Nexus 4 has a dual-band UMTS Power Amplifier suitable for 3G networks.
On the other side of the motherboard is Samsung's K3PE0E00A 2GB RAM and a Snapdragon S4 Pro 1.5GHz CPU.
In the final analysis, the Nexus 4 scored seven out of 10 in the repairability assessment. This is reasonably good, considering the Galaxy Nexus managed only six.
© Copyright IBTimes 2023. All rights reserved.