Google's highly anticipated Nexus branded smartphone, featuring the latest Android software version 4.4 codenamed KitKat, is now official. The New Nexus has come out creditably in several benchmark tests.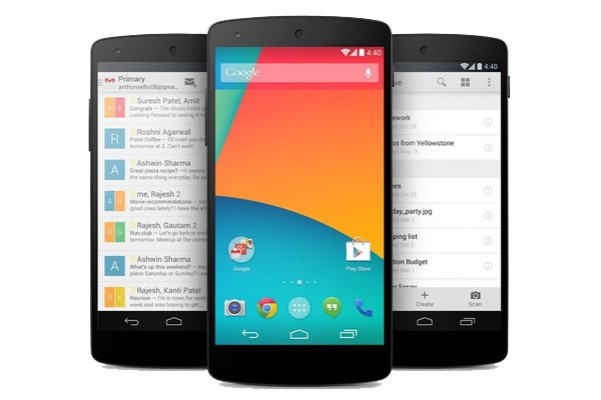 The Nexus 5 features the powerful Snapdragon 800 chip from Qualcomm, which is also powering some of 2013's highest profile smartphones including the Samsung Galaxy S4, HTC One and Sony Xperia Z1.
The chip features a quad-core processor with each core running at clock speeds up to 2.3GHz. This is paired with an Adreno 330 GPU, clocked at 450MHz and 2GB of RAM.
In the Sunspider test, which is one of the tests conducted by PhoneAerna, measuring the CPU performance of the Krait 400 core, the Nexus 5 occupied the second place scoring 724.6 points.
This is slightly more than Apple's flagship iPhone 5s, running with the new 64-bit A7 chip and M7 motion coprocessor, the winner in the same test with the lowest points, at 415.7 (a lower score is considered to be better).
In the Octane benchmarks revealing the speed of the processor, the Nexus 5 scored high points at 3907.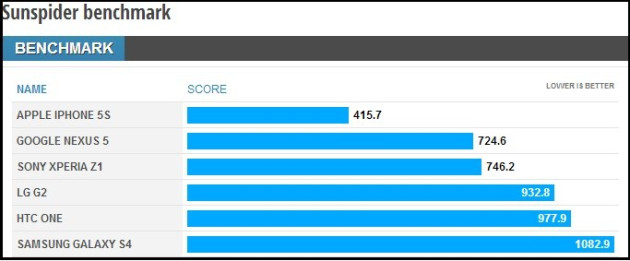 The Basemark X on-screen test shows how well the Nexus 5 can handle games compared to top-end rivals. This is said to be a stressful test that includes particle and advanced lighting effects as well as post- processing.
The Nexus 5 delivered good performance in the Basemark X on-screen test, which is close to a real game and also a graphics-intensive version. The Nexus 5 was in the fourth place with 14.27 points in the benchmark. The iPhone 5s with 27.685 points retained the first place.
However, the Nexus 5 was ahead of its major market rivals including the Galaxy S4 and the HTC One.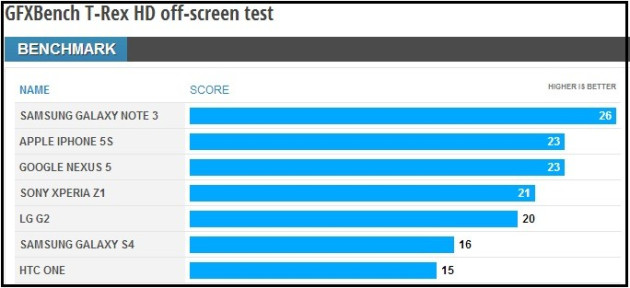 In the well-known GFXBench T-Rex HD off-screen test, the Nexus 5 scored 23 frames per second, quite close to the coveted 30fps gaming frame rate. The only smartphone that outdoes it here is the third generation Galaxy Note.
In terms of overall performance the Nexus 5 holds its own against the Galaxy S4 and the HTC One, notes Gigaom which claims that the Nexus 5 is lag-free while multitasking or doing any typical activity. Video playback on YouTube is also smooth.
Also read- Android 4.4 Kitkat Roll-out Expected to Commence Soon