Google Now: Entire List of Voice Commands and Functions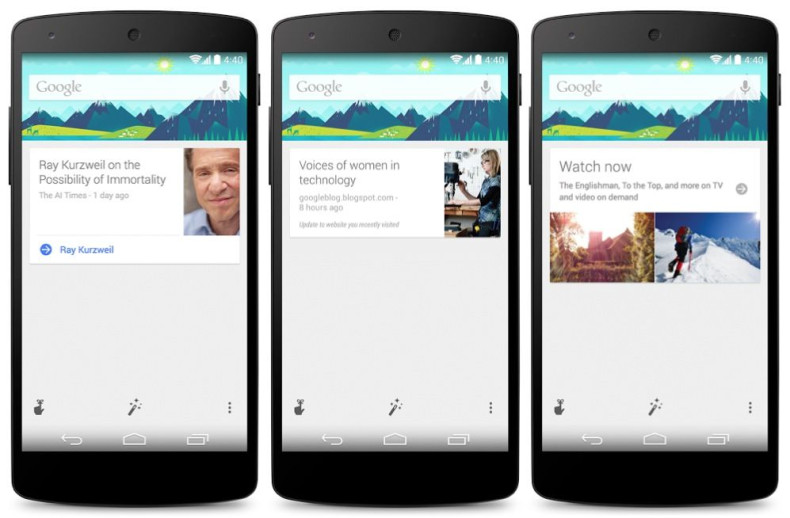 With every passing update, Google Now is becoming more and more integral to the Android operating system. Google has been constantly adding new functions and capabilities to the app, making it more and more useful. We've finally come to a stage where it is easier to control your phone just by speaking to it.
Thanks to the latest Android KitKat update, users can bring up Google Now simply by saying "OK, Google" at any time. Given below is a full list of all the voice commands on the app.
---
Essential commands
---
"Go to [MSN.com]."
"Search for [Samsung Galaxy S5]."
"Open [Gmail]."
"Take a picture."
"Record a video."
---
Productivity
---
"Remind me to [call John at 6PM]."
"Remind me to [buy toilet paper at Target]."
"Set an alarm for [6PM]."
"Create a calendar event: [Happy Hour at Union on Friday at 5:00PM]."
"Where's my package?"
"Note to self: [remember to buy milk]."
"What's the tip for [$42]?"
---
Communications
---
"Call [Edward Norton]."
"Call [Dad mobile]."
"Text [John that I'm running 5 minutes late]."
"Send email to [Rob Stryder, subject, Google Now, message, Check out these Voice Commands]."
"Listen to voicemail."
"Find [Bruce's] number."
"When is [Joan's] birthday?"
"Post to [Google+]: [Google Now is awesome]."
---
Media
---
"Listen to: [Abba]."
"Play: [50 Cent]."
"What's this song?"
"Play some music."
"Watch [The Godfather]."
"What movies are playing tonight?"
"Where is [Godzilla] playing?"
"Show me pictures of the [Statue of Liberty]."
---
Navigation and Travel
---
"Navigate to [Ocean City, MD]."
"[Biking] directions to [The Brewer's Art]."
"Find [the Eiffel Tower]."
"Where is [the Empire State Building]?"
"Where's the nearest [ice cream shop]?"
"Show me the menu for [Holy Frijoles]."
"Call [Ledo's Pizza]."
"Show me my flights."
"Where is my hotel?"
"What are some attractions in [Berlin]?"
---
Information
---
"What time is it in [London]?"
"Do I need an umbrella today?"
"What's the weather in [Cape Cod] for [the weekend]?"
"Where was [Albert Einstein] born?"
"How old is [Brad Pitt]?"
"How do you say ['hello'] in [Spanish]?"
"What does [onomatopoeia] mean?"
"What's [Google's] stock price?"
"What is [Twitter] trading at?"
"What's [16 ounces] in [pounds]?"
"What is the square root of 2209?"
"When is sunset?"
"Did the [Orioles] win today?"
"How did [the San Francisco Giants] do?"
Source: Phandroid