Google's Pixel phones are now official after being unveiled at a launch event in San Francisco. The Pixel and larger Pixel XL are the first handsets to arrive from Google without the Nexus brand and open for pre-orders today (4 October) in the UK, US, Australia, Canada, and Germany.
The 5in Pixel and 5.5in Pixel XL are high-end devices that look set to compete directly with Apple's iPhone 7 and 7 Plus, as well as Android powerhouse Samsung. Both feature a quad-core 2.15GHz Qualcomm Snapdragon 821 processor with 4GB RAM. Storage options are 32GB and 128GB.
Pixel and Pixel XL: Design and specs
The handsets are clad in metal and feature a glossy panel on the back that houses a circular fingerprint sensor and the camera module.
The Pixel and Pixel XL share the same camera setup with a rear-facing 12.3MP sensor with f/2.0 aperture lens and gyroscope-based image stabilisation. The camera has a DXOMark industry rating of 89, making it "the best camera on a smartphone ever," according to Google.
Much like Apple's iPhone 7, the Pixel phone has an HDR mode for more vibrant shots. The front-facing camera is 8MP, and Google has bundled in unlimited cloud photo and video storage at full resolution for every Pixel owner. Even 4K videos can be stored in full quality for free.
The only differences between the Pixel and Pixel XL are in their screen and battery sizes. The Pixel features a 5-inch 1080p AMOLED display, whereas the Pixel XL features a 5.5in, 1440p Quad HD panel, which is also AMOLED. Both are protected by Corning Gorilla Glass 4, which you'll also find on the Samsung Galaxy S7 and LG G5.
Whereas the Pixel comes with a 2,770mAh battery, the additional pixel power in in the Pixel XL necessitates a larger 3,450mAh power pack. Both support quick charge technology via USB-C, which will get you seven hours of power with 15 minutes of charging.
Pixel and Pixel XL: Daydream VR compatibility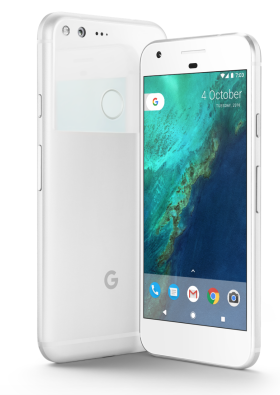 Naturally, both handsets come running Android 7.1 Nougat and are ready for Google's Daydream VR platform right out of the box, with Google labelling Pixel "the first phone to be built for VR".
They've also been injected with Google's new suite of messaging and communications tools, including Facetime rival Duo and Google Assistant-powered Allo.
Google Assistant, the company's take on Apple Siri, is now more prevalent throughout the Pixel phones, essentially serving as an upgrade/replacement to Google Now. You can launch the virtual helper from anywhere on your phone by saying "OK Google" or by touching and holding the home button.
Google Assistant recognises context based on what you're doing to provide more relevant info, and becomes more helpful over time from the conversations you have with it. Google calls it "your own personal Google".
On stage, Google demonstrated how, for example, you can tell the Assistant to search for photos by date. Additionally, if you ask it to find a certain song for you, it will launch it in the app you most use to play media (YouTube, for example).
Pixel and Pixel XL: Price and release date
The Pixel and Pixel XL go on sale on 10 October, with 'Very Silver', 'Quite Black' and 'Really Blue' colour options available. The 32GB Pixel costs £599, or £699 for the 128GB version. Similarly, the Pixel XL costs £719/ £819. Pre-orders are open now.