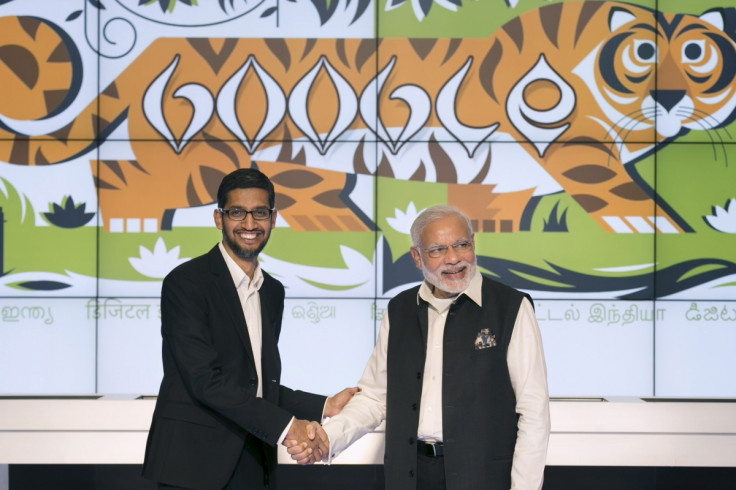 Google's Sundar Pichai is to become the latest top executive in the long list of tech moguls such as Microsoft's Satya Nadella and Facebook's Mark Zuckerberg to visit India seeking an audience with the Narendra Modi government. Besides meeting the Indian prime minister, Google's chief executive will also meet a slew of government ministers and industry representatives from a range of sectors during the course of his two-day visit.
While the exact agenda of his meetings have not yet been revealed, no major announcements or product launches are expected — unlike his earlier visit in September 2014 when Pichai introduced Android One. This is also Pichai's first visit to his home country since he took over as the top executive in August. The 43-year-old Indian born had already met Modi at the Google headquarters in Mountain View, California, when the latter visited the US earlier.
Pichai is likely to outline Google's plans for India — the second largest internet market in the world — when he makes a special keynote address shortly. A press invitation from Google sent to media houses read: "India is at the centre of a digital revolution today, with millions of Indians getting online every month. India has always been key for Google and we continue to work towards evolving our product offerings for the unique needs of our users."
Pichai is accompanied by several top executives. The list includes YouTube's vice president Eyal Manor, Google's South East Asia and India vice president and managing director Rajan Anandan, and vice president of product management Caesar Sengupta.
India's state-run Indian Railways' telecom wing, RailTel, recently joined hands with Google to provide Wi-Fi at more than 400 train stations across the country. India, with an internet penetration of merely 19% but with the second-largest user base, has caught the attention of several tech giants in recent years. The country is estimated to be home to 500 million internet users in the next two years from the current number of 350 million.