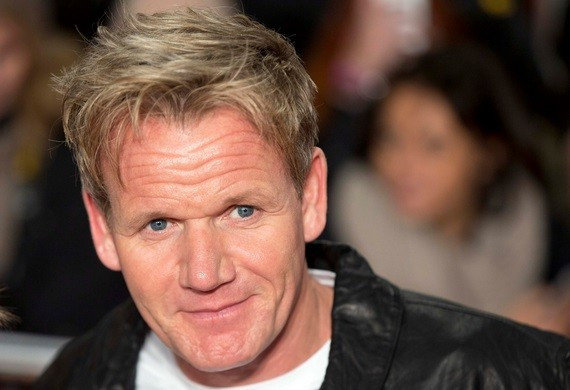 Gordon Ramsay is embroiled in another legal battle - this time over his failed restaurant The Fat Cow.
Ramsey's landlord claims the chef failed to keep up with his $52,000-a-month long-term lease in The Grove shopping center in Los Angeles, and is now demanding $6 mlilion from the Hells Kitchen Star.
The lawsuit follows a string of recent legal battles associated with the eatery which was closed in March after a Florida restaurant owner claimed to have exclusive rights to the name 'Fat Cow.'
According to NY Daily News, Ramsey's former business partner Rowen Seibel is also suing the chef for 10 million, claiming that "Ramsay deliberately mishandled the trademark problem for their LA eatery The Fat Cow,".
In the 19-page report, Seibel claims that Ramsey carried out a "money grab" on the Fat Cow restaurant that they set up together in Los 
Angeles, shutting it down and then reopening it under a different name.
He also accuses him of running a "dictatorship" similar to that portrayed on the television show Hell's Kitchen.
Ramsey has reportedly fired back, blaming his partner for being a financial dummy and attributing the restaurant's failure to "negligence" on Siebel's behalf.
Staff at the Fat Cow restaurant also claimed they were paid the minimum wage and were not given any breaks in a class action lawsuit.
The Scottish chef also had a seperate lawsuit brought against him butcher Endicott Meats, which asked for £114,000 after claiming Ramsay failed to pay for a huge order of tenderloins, duck breasts, racks of lamb and bacon.
Endicott Meats founder Michael Endicott told the Scotsman newspaper "The way I see it is that Gordon's smarter than all of us: you would be a millionaire too if you didn't pay your bills."