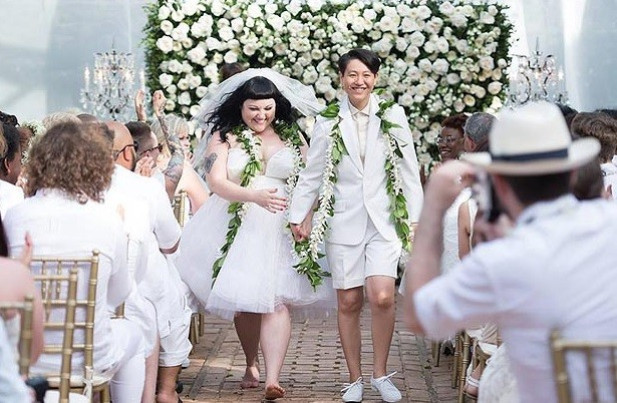 Gossip singer Beth Ditto has married her girlfriend Kristin Ogata in a white wedding in Hawaii.
The 32-year-old rock singer announced the news by sharing a snap of the nuptials on her Facebook page.
The image shows the couple walking back up the aisle past family and friends after the ceremony. Ditto is barefoot and wearing an enormous grin.
She chose a short white dress with plunging neckline designed by Jean Paul Gaultier for the occasion while Ogata - who is from Hawaii - sported a smart white suit and fitted shorts.
They wore matching white garlands of flowers.
Ditto and Ogata revealed that they were engaged in April but details of the wedding have been kept under wraps until now.
"At long last, now that we have returned home and recovered from all the amazingness and had some time to bask in the afterglow, we are excited to share with you a pic or two from Beth and Kristin's wedding," she told her fans on Facebook.
"So much love and appreciation to all of our family and friends who celebrated with us. And a huge thank you to Jean Paul Gaultier for the dream-come-true dress."
Gaultier shared the snap with his 300,000 Twitter followers and he sent his best wishes to the happy couple.
Ogata used to be Ditto's assistant.