A 26-year-old graffiti artist in Australia died horrifically when he accidentally grabbed overhead power lines carrying a charge of 450,000 volts as he tried to "tag" a train. The man suffered deep burns to 90% of his body and died in hospital.
The man, who has not been named but is believed to be from the Greenbank area of Brisbane, was with a friend aged 19 at a shunting yard in Tennyson when the incident happened on Saturday night (1 November).
"When police arrived the ambulance was already [at the scene]," Regional duty officer Inspector Daniel Bragg told ABC News. "They were advised that two males had entered the railway yard – one of them had climbed onto a commercial container that was on the line and came within the proximity of an overhead line and was electrocuted."
Bragg said the incident was witnessed by workers at the shunting yard.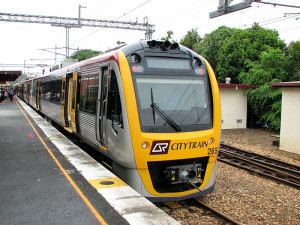 "What I'm advised is that the staff at the shunting facility here observed a flash or perhaps a flame, and they went over and they observed the male person to be sitting on top of the carriage near the power line."
The man's friend, who witnessed the incident and phoned for an ambulance, has been released without charge after questioning.
Two months ago in the same area a man tagging trains fell to his death. Bragg emphasised that overhead cables can kill even without being touched.
"You don't have to actually touch the lines to be electrocuted. You just have to be in close proximity. The message here is quite simple: don't go near train lines. There are dangerous things in and around train lines, not the least of which are power lines which may be almost invisible of a night time with little or no lighting."
Tagging of trains and related infrastructure is popular across Australia and around the world, but the dangers have long been well-documented. In 2007 two young graffiti artists died in Barking, London when they ran into the path of an Underground train.