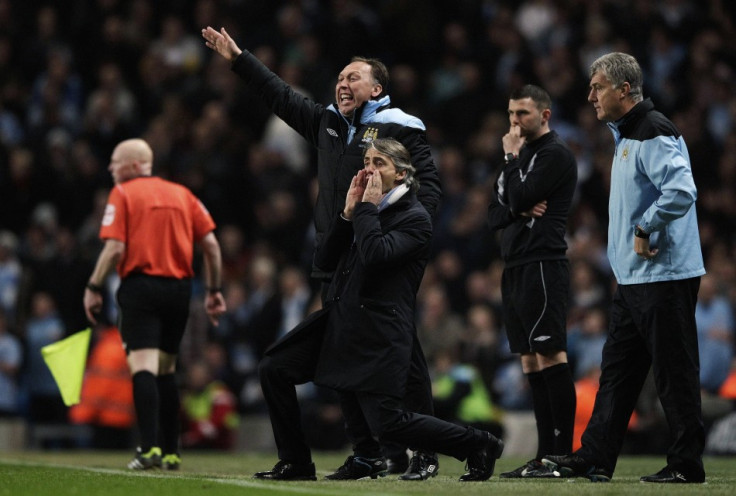 Former Premier League referee Graham Poll has praised Mike Dean performance in Manchester City's 2-1 win against Chelsea at the Etihad Stadium on Wednesday.
City equalised in the 77th minute through a Sergio Aguero penalty, after Dean penalised Michael Essien for handling the ball in the area.
Essien was no more than two yards away from Pablo Zabaleta when he handled the ball, after the Manchester City player fired the ball goal wards. Essien clearly raised his arms to create a larger obstacle and Dean awarded a spot-kick despite the protestations of the Chelsea midfielder.
Aguero calmly slotted the ball past Chelsea goalkeeper Petr Cech to equalise for Manchester City and Poll believes his colleague Dean made the right call.
"Mike Dean is known as a referee who makes positive decisions, especially in the penalty area," Poll told the Daily Mail.
"So it came as no surprise when he awarded Manchester City a spot-kick in the 77th minute that brought the hosts back into this crucial game. Chelsea midfielder Michael Essien was only a couple of yards away from Pablo Zabaleta as the City player struck a fierce shot.
"However, Essien had both arms above his head in an unnatural position. He was, as some might say, making himself as big as possible. So referee Dean was correct to award the penalty.
"While title rivals Manchester United might dispute the decision, Chelsea would find it difficult to, having benefited from a similar one awarded against Napoli last week.
Carlos Tevez made his Manchester City return to set up Samir Nasri's late winner as Roberto Mancini's side closed the gap on leaders Manchester United at the top of the Premier League.
The Argentina international had not featured for City since he allegedly refused to play in the Champions League loss at Bayern Munich in September.
But Mancini insists Tevez can play an important role in the title run.
"In 10 days or two weeks Carlos will be fitter and in better form and it will be important for us," Mancini told BBC Sport. "He is maybe 100 per cent but he knows football and it was an important, incredible assist for Samir's goal.
"When he plays he knows where he should take the ball. He is an important player but he needs another two or three weeks.
"I spoke to Carlos after the game and he was happy, like the other players, but I have been speaking to him every day for the last month and it is normal."