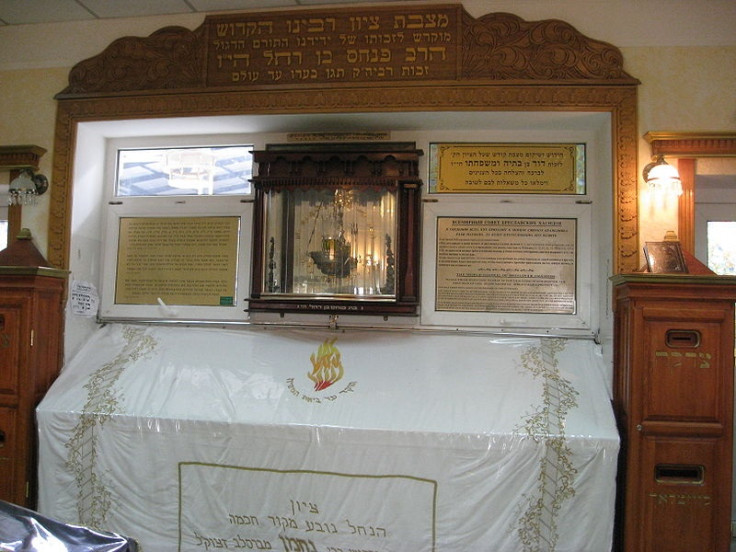 Ukrainian prosecutors are investigating after the grave of a revered Hasidic rabbi was desecrated with a pig's head and fake blood at an important Jewish pilgrimage site in Ukraine.
The grave of Rabbi Nachman of Bratslav, located in the town of Uman, south of Kiev, was defiled in the early hours of Wednesday 21 December.
Tens of thousands of pilgrims annually visit the grave of the Polish-born rabbi who founded the Bratslav Hasidic sect and died in the town in 1810.
Prosecutor General Yuri Lutsenko released a statement saying the case is now under his personal control, reported Associated Press.
Images of the scene, published by orthodox Jewish online news publication Yeshiva World, show blood-like paint spread on floors and walls and at least one pig's head nearby.
The Times of Israel reported that worshippers were teargassed in the incident at around 2am.
The publication adds that two Israeli nationals were taken to a local hospital for treatment after the attack.
In an interview with Ynet, the English online version of Israel's most popular newspaper, Edioth Ahronoth, the manager of the compound, Rabbi Elhadad, described the attackers as "Nazis".
"A group of Nazis came to the place. One of them entered and scoured the place. We thought maybe he wants to pray because sometimes foreigners also come and pray there," he said.
"After about a minute, two of them came in with bottles of paint and started spraying the worshippers with tear gas."
Elhadad said most visitors to the site were in a smaller synagogue and although the site is guarded, the attackers were at first thought to be worshippers.
Israeli Interior Minister Aryeh Deri, head of the ultra-Orthodox Shas Party, said he was planning to contact Ukrainian President Petro Poroshenko to "act swiftly act against the hooligans and increase security".
If proven, it would not be the first time that far-right groups have targeted Jewish pilgrims. In September last year Ukrainian nationalists destroyed a tent city erected by Hasidic Jews in the same town ahead of the Rosh Hashanah pilgrimage.
And in 2014, eight Ukrainian Jews with martial arts skills learned in the Israel Defence Forces (IDF) set up a self-defence group to fight back against anti-Semitic attacks on the country's 110,000-strong Jewish community.