Grayson Perry has said the people who removed the Banksy wall mural in north London and put it up for auction in Miami have inadvertently destroyed it as a piece of art.
The Turner Prizewinner was speaking at an event to celebrate 100 years of conservation at Historic Royal Palaces.
The charity has one of the oldest continuous conservation programmes in the UK and its textile conservation studios turned 100 last year.
Banky's mural Slave Labour on the wall of a Poundland shop in in Wood Green depicts a small child hunched over a sewing machine making Union Jack bunting.
It was stolen before resurfacing in a Fine Art Auctions Miami auction for a guide price of between £328,063 and £459,288.
Haringey Council, the local authority for Wood Green, launched a campaign to get the artwork back the UK and Slave Labour was eventually withdrawn from the auction.
Perry said: "The most interesting thing about it for me was that Banksy said the minute they dug it off the wall it wasn't a Banksy any more.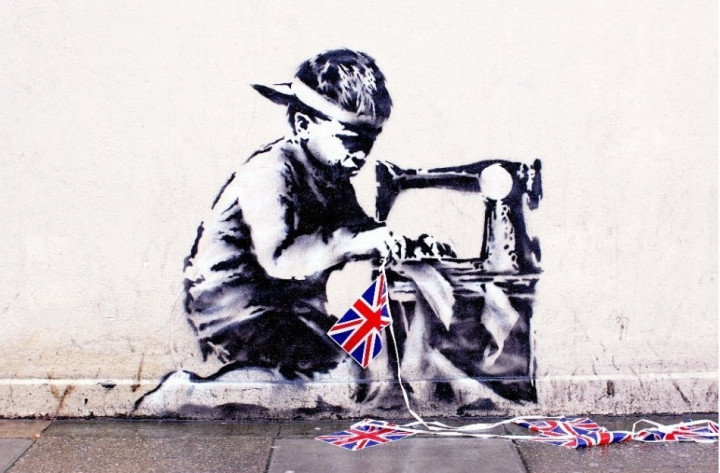 "The very fact that they were trying to preserve it actually destroyed it. And that's an interesting dilemma."
Historic Royal Palaces is responsible for the restoration and conservation of one of the largest collections of tapestries, baroque wall paintings and state beds on display in the UK, with around 30 members of staff preserving textiles.
Perry said: "If somebody asked me do I want my work preserved in the future, I'd say I'll be dead so I won't really worry about it and if you put it all into the skip the day after my funeral it's not going to worry me.
"But I suppose the people who have spent a lot of money [on it], they'd probably be worried about it.
"I understand that conservation has to be done. [My tapestries] are woven in five hours. Because they take five hours, are they worth restoring? Or do you just press a button and make a new one?
"Making objects is still a really important part of our lives and we need conservers. It's sort of like what John Berger said: the only role left really in the art world is to be unique, to be the real thing.
"Because if you look at a lot of paintings online now, you can probably see them better than in the flesh - if you go to Google Earth you can see [paintings] in much more detail than if you went to the gallery.
"But people still want to come to kiss the icons, so to speak. They want to pay to take the pilgrimage."