Bread week saw the Great British Bake Off contestants struggle with their sourdough, battle over babkas and breakdown over undercooked brioche. And who even knew what a Dampfnudel was?
Bread baking expert Paul Hollywood was in his element as he scrutinised the bread bakes for rise and proving and savaged the contestants for their raw dough offerings.
A chocolate bread challenge saw most of the bakers produce something edible, but the technical challenge which required the bakers to produce a Dampfnudel had them all baffled.
Paul couldn't hide his glee at the unfathomable task as he tore apart the baker's efforts at recreating the German dumplings.
Benjamina's loaf prompted a disagreement as to whether her signature bread was a babka or a couronne. The 23-year-old was having none of it. "It's a babka," she said defiantly.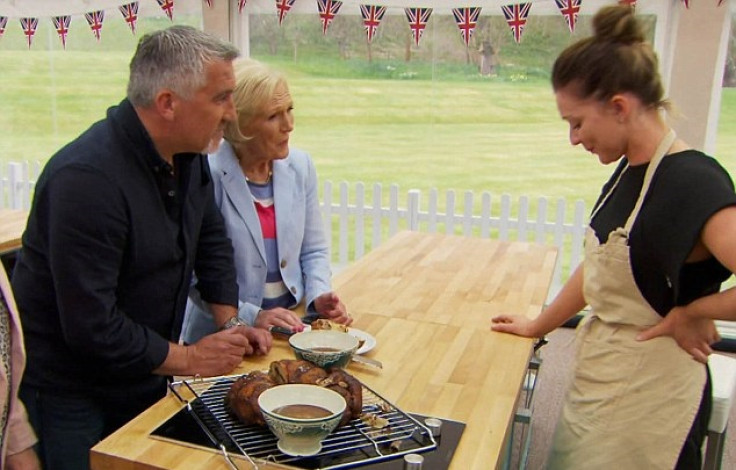 Tom Gilliford continued to showcase his inventive use of flavours using chilli, ale, volcanic lava and seaweed for his showstopper winning Paul's praise and the accolade of being named Star Baker.
Of course it wouldn't be Bake-Off without a serving of baking inspired innuendo and the contestants seemed to be playing ball.
"I'm a bloomers 'n' baps girl," said Norfolk nurse Kate Barmby deadpan, and when Sue asked, "How are your balls?", Kate came back: "I'm just pinching their bottoms." And as for Tom's Thor inspired plait, well enough said.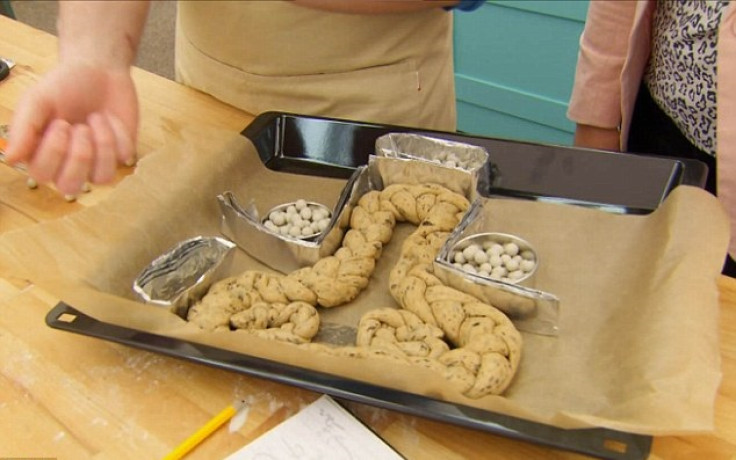 Val, who has one the nation's hearts for her wonderful eccentricities, went all out attempting to recreate Noah's ark with bread. While Paul critcised her execution of the showstopper Mary Berry came to her defence insisting in her delightfully polite manner that it was "not a mess, it's just informal" coining a phrase that Twitters users quickly latched onto to explain away all manner of poor performance.
It was a tough week for Candice Brown. The PE teacher, who is famed for her perfect pout as much as for her brilliant bakes, had the judges in raptures last week over her sticky-carpeted gingerbread pub.
But bread week saw her fail to rise to the occasion. Candice fought back tears as Paul pulled apart her under cooked brioche, refusing to eat it. "I'm really embarrassed! I'm so sorry!" she said through tears.
Even her showstopper failed to make the grade after the plait design disappeared in the top bread. "We asked for plaits in both but we've only got a plait in your lower loaf," said a disappointed Mary.
"'I can't see the green olives, I can't taste the green olives, I can't smell the green olives....'said Paul. "The top loaf is a mess,' he continued. "The flavour, the dough development, the proving, the baking...I mean all of it."
As Rav attempted to console her it was apparent Candice thought she would be sent home as she said "Ta-ta!" to her fellow bakers. In fact, Candace lived to bake another day, as Michael was sent home for his poor technical and his lacklustre showstopper prompting accusations of favouritism as Candace seemed to have the worst day in the kitchen,
True to Paul's promise, this year's contestants have been put through their paces and it doesn't get easier. Next week, in a hotly tipped Bake-Off first, the bakers will be called on to make perfect Yorkshire puddings and display their pancake flipping skills. Let's hope they don't take a battering.