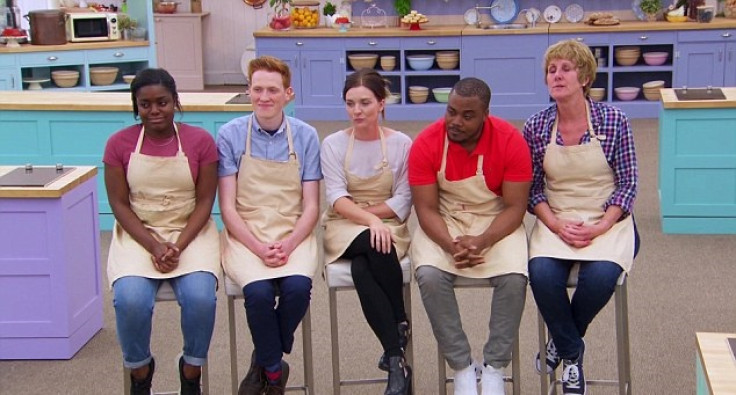 Tonight's Great British Bake Off left viewers with a bad taste after Benjamina was unceremoniously sent home by the judges after 'a bad day at the office'. It was Tudor week and the five remaining bakers –Selasi, Candice, Benjamina, Andrew and Jane - were set the task of recreating medieval inspired pies and puddings.
It all seemed to go wrong with the Technical challenge when the bakers tried their hand at making Jumbles. The biscuits shaped like Celtic knots had Benjamina grappling with her bakes after she put them on the wrong shelf in the oven.

Her 'Tudor garden' showstopper, complete with marzipan maze, also failed to impress and there was no competing with Candice's almost life-size peacock.
Meanwhile, Benjamina's Signature dish didn't quite meet the requirements of the Tudor theme, her pork and spiced black bean pies having a Mexican twist. "They'll look kind of Tudor-y but they'll taste ... different," she admitted.
Selasi had the Tudor theme down creating game pies with a filling of guinea fowl, rabbit, venison, and pigeon, and a fortress showstopper 'representing the six wives and the sword in the middle representing the Battle of Bosworth Hills'.
"I think I'm the only one doing traditional Tudor-ish things," observed Selasi.
While Candice was deservedly awarded the accolade of Star Baker after winning both the Technical Challenge and leaving Paul Hollywood speechless with her showstopper, Benjamina fell foul of the judges and was sent home.
The aspiring baker who had made it to the quarter-finals was left heartbroken and in tears. News that Benjamina was to leave the tent did not go down well with the viewers.
For the last few weeks, viewers have been captivated as much by her baking skills as by her bonding with fellow baker Selasi. While the Bake Off heart throb has a girlfriend, viewers have been speculating that there might be something more cooking between the two after they appeared to be engaging in flirtatious banter in the kitchen.
Selasi however put paid to the speculation as she exited the show insisting "she's been a proper sister to me."

While Benjamina was praised by her fellow bakers, Bake-Off fans were outraged and just a little bit heartbroken to see their blossoming relationship come to an end.
"Selasi and Benjamina. Better love story than Twilight. #GBBO," said one Twitter user. "no more benjamina and selasi banter, is life even worth living any more #GBBO" said another dramatically.
"Really sad Benjamina and Selasi aren't baking friends anymore literally soulmates #GBBO."
"Shes a proper sister to me" - Selasi about Benjamina STOP MESSING WITH MY EMOTIONS #GBBO," said another.
"Utterly torn ... Selasi was saved, but at the cost of losing Benjamina".
"Nooooo! Benjamina has gone and channel 4 are welcome to it quite frankly now," said one disgruntled commentator.
Benjamina herself was happy with her baking journey.
"No more tears! So so proud to have finished as a quarter finalist! V excited for what's to come!