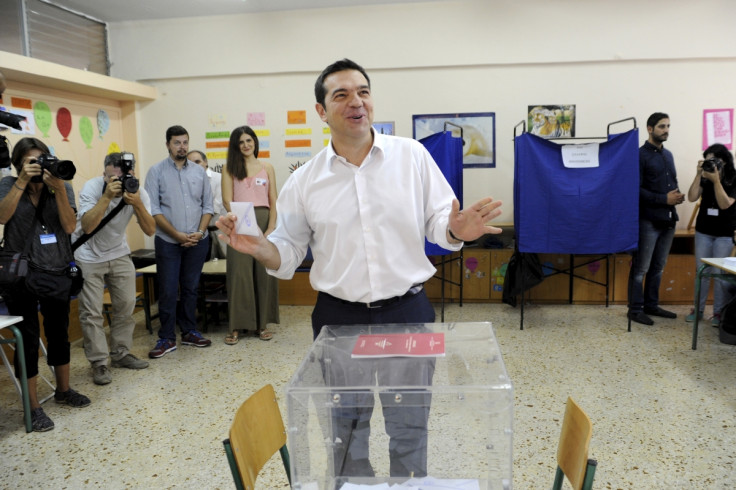 Syriza is set to win the biggest amount of votes in Greece's snap elections, according to the three first exit polls after voting closed.
The left-wing party looks to be slightly ahead of centre-right New Democracy with two broadcaster polls predicting around 30%-35% of the votes to go to Alexis Tsipras's party, giving around 28%-33% of votes to ND.
However, this is still a far cry from Syriza's 149 out of 300 seats in parliament it won in the January election. The party will need to work together with other parties or independent members to form a government.
Greeks will especially focus on the new government's relationship with the country's creditors, which include the European Central Bank and the International Monetary Fund. The country still faces a staggering debt and the bailout fund which the parties agreed on in August was implemented right before the election.
Pro-Eurozone Antonis Samaras's New Democracy stated that it is awaiting official votes and says that no official conclusions can be made from exit polls.
The right-wing Golden Dawn party was polled to receive between 6%-8%, and fourth in the race is socialist movement Pasok.
Experts think that Syriza will either opt to rule in a minority government, which mean it will depend on the support from Pasok and other anti-austerity governments, or form a coalition with one of the established parties. As the Independent Greeks, which was part of the last government with Syriza, are struggling to get back into parliament, a repeat of the coalition is highly unlikely.
But the chance of a third election in the span of a year for Greece is becoming increasingly more possible. New elections will be called if no coalition can be formed. According to Greek media, the turnout was one of the lowest in Greek history, in stark contrast with January's strong protest vote that changed the political landscape in the country. However, the low participation rate comes as no surprise considering the elections were called just a month before voting opened, when Tsipras resigned on 20 August.