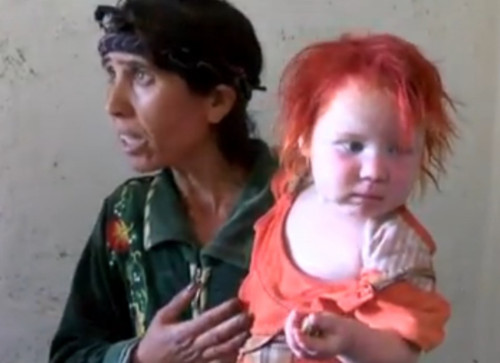 A DNA test has confirmed that a Bulgarian Roma woman is the biological mother of Maria, the mystery blonde girl discovered living with an unrelated couple in a Roma camp in Greece.
The Bulgarian Interior Ministry said forensics confirmed claims by Sasha Ruseva, a 38-year-old woman living in the city of Nikolaevo, central Bulgaria, that Maria was her daughter.
Ruseva had told local media that she gave birth to a baby girl in central Greece a few years ago but could not provide for her, and thus gave her up to another woman.
"I gave my child away because we were hungry," Ruseva said.
"[The Greek woman told me]: 'Give me this child, I will take care of it. You can come and take it back anytime you want'," Ruseva claimed.
"I intended to go back and take my child home, but meanwhile I gave birth to two more kids so I was not able to go back."
Ruseva lives with her husband Atanas Rusev and eight children, some of whom bear a strong resemblance to Maria.
Maria was found living in a Roma camp near Farsala, central Greece, by police searching the settlement for drugs and weapons.
Investigators became suspicious when they noticed the blonde child who looked nothing like the couple who claimed to be her parents.
The two, identified as Christos Salis, 39 and Eleftheria Dimopoulou, 40, were arrested and charged with abduction. DNA tests revealed that Maria was not their natural daughter and a worldwide hunt for the natural parents was launched by Interpol.
The blonde girl, who speaks only Roma but appears to understand Greek, is in the care of The Smile of the Child charity.