London's fire commissioner says it will be a miracle if any survivors are found following a devastating high-rise fire that killed at least 17 people. Authorities have said dozens more victims are expected.
Dany Cotton told Sky News that authorities don't expect to find anyone else alive after the blaze and that it's too early to speculate on how it started.
She said early Thursday (15 June) that authorities have finally extinguished the last pockets of flame, and are trying to secure edges of the building for a fingertip search.
Meanwhile, community centers in London have been overwhelmed by the number of donations flooding in for those left homeless by a high-rise apartment building fire.
So much food, clothing, shoes and other items have been coming in that the centers, churches and mosques have had to start turning away new donations. At least 12 people have been killed in the inferno at the 24-story building, with the death toll expected to rise. Dozens of others have been hospitalized.
Missing people posters have been put up throughout the north London neighborhood of North Kensington. Celebrity chef Jamie Oliver has offered free food for survivors at one of his nearby eateries.
London fire investigators are painstakingly searching for more victims of the inferno that engulfed the high-rise apartment building and killed at least 12 residents.
Authorities say the death toll is expected to rise as emergency workers sift through more of the wreckage on Thursday.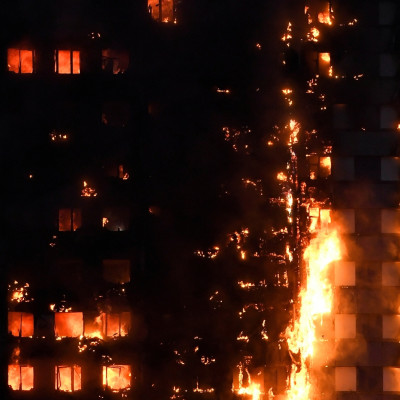 The fire early Wednesday in the 24-story building in west London's North Kensington district also injured dozens, 18 of them critically, and left an unknown number missing. The cause of the blaze is under investigation, but a tenants' group had complained for years about the risk of a fire.
More than £1m ($1.27m) has been raised to help victims of the tragedy as volunteers and charities worked through the night to find shelter and food for people who lost their homes.