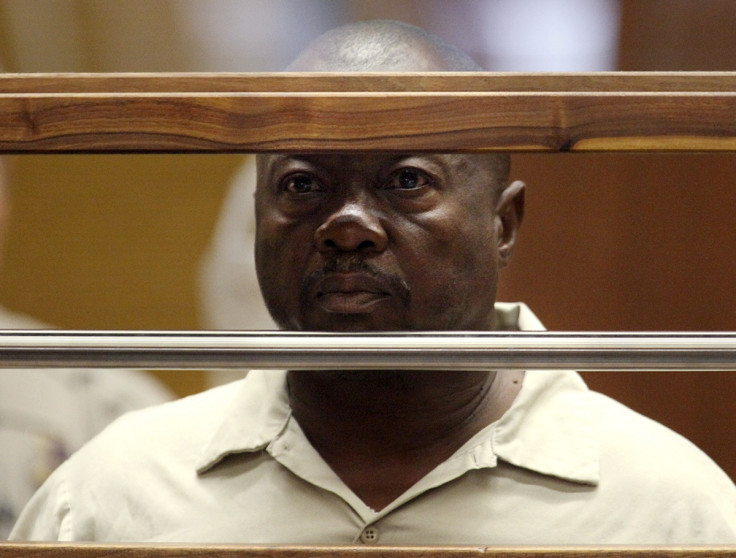 The so-called 'Grim Sleeper' killer was found guilty in May of murdering 10 women over the period of 20 years. Franklin will face a formal sentencing hearing at a later date. His chilling nickname is now believed to be a misnomer because of the 14-year dormant period between two groups of killings credited to the former rubbish collector that started in 1985 and ended in 2007.
Since his indictment in March 2011, the 63-year-old has been linked to six further killings, according to police. Franklin was arrested and charged in July 2010 after DNA collected from serviettes and pizza crusts at a birthday party connected him to over 12 crime scenes.
His defence team advanced the theory that a "mystery man" was responsible for the murders, but prosecuting lawyers slammed this as a far-fetched fiction.
When the sentence was read out, Franklin, who wore a yellow shirt and neck tie remained unemotional as he has throughout the entire trial. Relatives of Franklin's victims hugged prosecutors and shed tears on the steps of the courtroom after the death verdict was delivered, according to the LA Times.
"We got what we came to get," said Porter Alexander Jr., whose daughter Alicia was 18 when she was killed.
Donnell Alexander, Alicia's brother, plans to be at Franklin's execution because he "wasn't there when he [Franklin] did what he did to my sister."
In her closing arguments, Deputy District Attorney Beth Silverman spoke in front of a projector that displayed pictures of Franklin's victims' battered and bodies.
"They were so vicious, they were so calculated, and they were so demeaning," Silverman said. "The way that these women ended up, half of them naked... all of them in filthy alleys."
The victims listed in the charges against Franklin were: Debra Jackson, 29; Henrietta Wright, 35; Barbara Ware, 23; Bernita Sparks, 25; Mary Lowe, 26; Lachrica Jefferson, 22; Alicia Alexander; Princess Berthomieux; Valerie McCorvey, 35; and Janecia Peters, 25.
There are 747 inmates currently on death row, according to the California Department of Corrections and Rehabilitation. 76-year-old Clarence Ray Allen was the last person executed in California by lethal injection at San Quentin State Prison.