Grimm season 5 premiere date and trailer: Vengeance ahead for Nick as Juliette's fate is still uncertain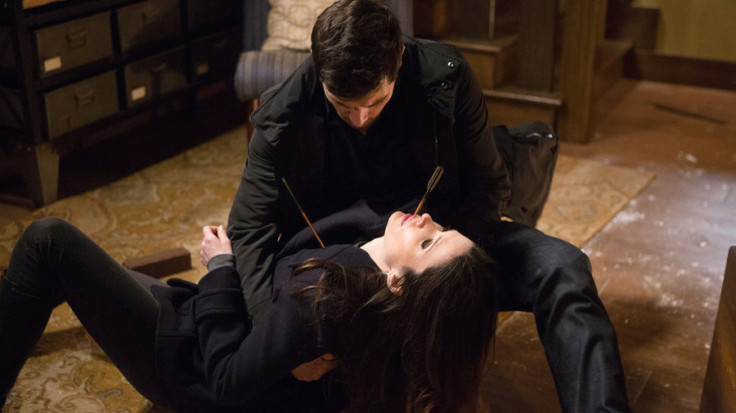 Episode 1 of Grimm season 5 will air on 30 October at 8/9pm EST on NBC. And the network recently unveiled the first official poster of the upcoming season.
The art work shows a hellish journey ahead for Nick along with the caption: "Vengeance rises from the ashes".
Grimm season 5 poster teases Vengeance ahead for show's lead character, Nick
NBC
In the finale episode of season 4, we saw Nick trying to strangulate Juliette to avenge his mother's death. But as Juliette begs him to go ahead and do it, he refrains from killing her.
Juliette then turns into a hexenbiest and tries to kill Nick, when Trubel enters the scene, says "Goodbye Juliette" and fires two arrows from his crossbow at her. Nick, then immediately holds his love in his arms as she struggles to breathe and the show ends.
Now, showrunners David Greenwalt and Jim Kouf have teased that Juliette could be dead on the show.
"Juliette is dead," Kouf told TV Line, while Greenwalt noted, "Sure looks like it."
"I think it keeps everyone on edge. You don't know what's going to happen," Kouf further teased of Juliette's return on Grimm, while Greenwalt added, "Anything could happen. It seems like a few shows, episode whatever, they get married or they finally get together. We decided to go a different way."
And going by similar scenarios earlier on the show, wherein Captain Renard was killed, but returned from the dead last season, fans could expect something similar with Juliette and she may return in season 5.
Meanwhile, Bitsie Tulloch who plays Juliette Silverton, took to Twitter to share the official poster of Grimm season 5, which implies that she is still associated with the NBC show.
She wrote, "Season 5 @NBCGrimm poster with @mistergiuntoli's handsome mug. PS Gs the premiere date is Friday October 30, 9pm @nbc"
Previously, co-creator David Greenwalt told The Hollywood Reporter that the upcoming season will be "darker".
He said, "I think it's going to be even darker still in a way. You know, it's not going to be the same 'Grimm'. I think it will be even bigger, even darker, even weirder. You know, I think it's where it naturally will go."
According to TV Insider, "Grimmsters should get some scoop at the show's Comic-Con International panel next month. The entire cast (Giuntoli, Russell Hornsby, Silas Weir Mitchell, Reggie Lee, Sasha Roiz, Bree Turner, Claire Coffee) along with executive producers Jim Kouf, David Greenwalt and Norberto Barba will be on hand on Saturday, July 11 at 3 p.m. in the San Diego Convention Center's Ballroom 20."
As the first look of the every season of the show has always been unveiled at Comic-Con, fans can expect to see Juliette and Nick's hellish journey in Grimm season 5 on 11 July.
© Copyright IBTimes 2023. All rights reserved.