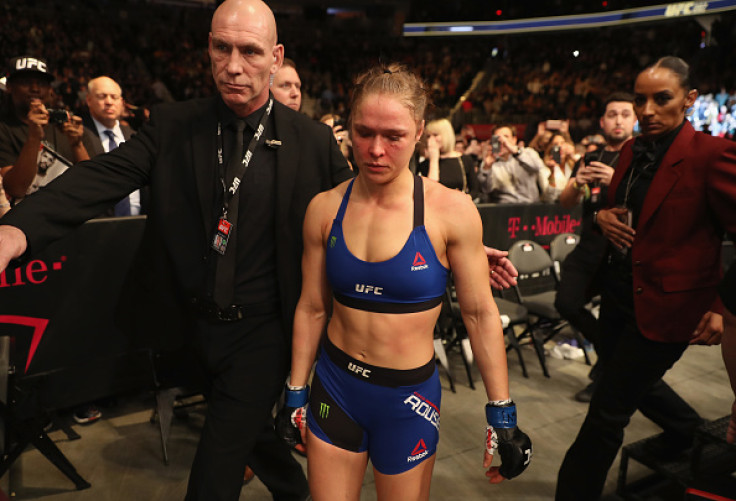 Former two-time light UFC heavyweight champion Jon Jones has dismissed talk about Ronda Rousey being 'overrated' following her brutal TKO (punches) against Amanda Nunes as UFC 207 on 30 December last year and is hoping she does not call time on her Ultimate Fighting Championship career following the loss.
The California-born fighter was fighting for the first time since her loss to Holly Holm in November 2015, and was given an opportunity to win her bantamweight title currently being held by Nunes. Her return did not go as planned as she was knocked out in 48 seconds by the champion leading to talk about her being overrated.
Jones, who is currently serving a one-year suspension for testing positive for a banned substance, believes the sport is rising to Rousey's level of talent which saw her become the longest reigning bantamweight champion. He believes, Holm in her defeat of Rousey via a head kick and punches, showed the other fighters the blueprint to tackle the American, who is more of a ground specialist.
The 29-year-old former champion believes that Rousey will go down as a legend even if she retires now, but is hoping that she comes back and fights for the title.
"I don't agree with (Rousey being overrated). I think the sport is kind of catching up with her talent level and people are realising she's not as good a striker as she is a ground specialist," Jones said, as quoted by MMA Junkie.
"I think Holly Holm kind of laid out a blueprint of how to beat Ronda, and it works. One thing about martial arts is none of us are invincible. The lesson you learn in Ronda's situation is to always evolve."
"I think it'd be great to see her come back, absolutely. I think it would be important for her legacy – it would show people her courage and her strength and her resilience. I think she needs to stick to fighting. I believe she still beats 90% of the division.
"Maybe she's not going to be the invincible, unbeaten person peopel thought she was. But whether she fights again or not, she's still going to go down as an absolute legend. I do believe she could regain the belt and beat any of the other girls (in the division) at any given time," the former two-time UFC light heavyweight champion added.