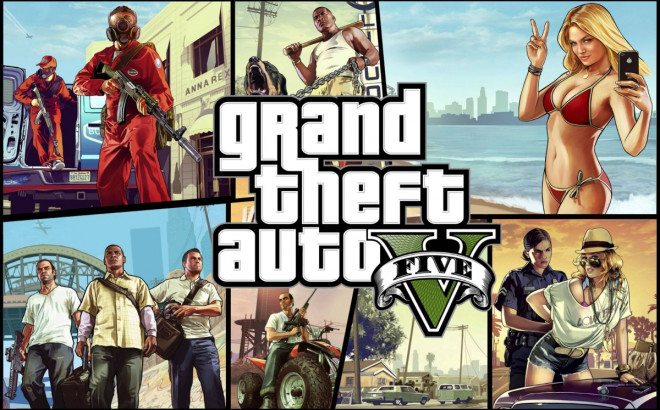 Despite Rockstar keeping mum over the release date details of the remastered version of Grand Theft Auto 5 for PS4 and Xbox One platforms, industry insiders have confirmed via Twitter that the game will be released on said platforms some time later this year.
According to Gamepur, quoting the response of an industry insider with Twitter handle Shinobi602, though there is no information about the exact release date for the game on the next-gen consoles, a big game title from Rockstar is definitely on the cards this year.
Here is what Shinobi602 tweeted in response to Gamepur's query about GTA 5's highly-anticipated release for the consoles:
"No idea mate. Though they do have a game set for this year, I'd imagine that to be it."
Nevertheless, Shinobi602's response gains support from another gaming website, Gearnuke, which confirms the insider's predictions have been accurate in the recent past.
This theory gains further momentum, as another industry insider, Ahsan Rasheed aka Thuway, has tweeted about the possibility of GTA 5 coming to the latest consoles this year.
With a consistent track record in leaking accurate information about games ahead of their launch, Rasheed has shed some light on the possible game releases by Rockstar in 2014.
Hinting at a remastered version of GTA 5, Thuway has this to say:
"The only remaster this year that will sell in excess of 4 million is the one, the only, Grand Theft Auto 5," he tweeted.
Though the insider did not divulge any further details about the game or its exact release date, he disclosed some interesting information regarding a few top game titles expected in 2014.
"If people are clinging onto Sunset Overdrive, the Last of Us HD, and Halo ports as the 'breakout titles of 2014', I hate to break it guys...
"It's not happening."
When questioned by Gamepur about the game's announcement or launch date, Thuway replied: "E3. Someone's conference..."
With several media publications and industry experts still hoping for an E3 announcement pertaining to GTA 5 next-gen console release, we could just hope that history is rewritten as Rockstar has never announced any of its big game titles at the annual event.
Also Read: Battlefield: Hardline Leaked Video Trailer Reveals Bank Heists, Multiplayer Modes, New Gadgets and More