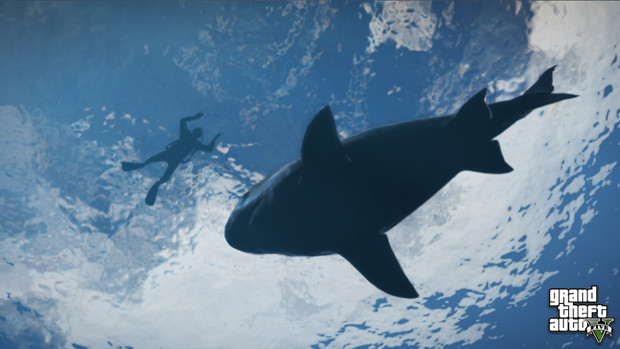 For those of you with money problems on GTA 5, there's a new solution. Rockstar has released a new cash pack and it is now available for purchase and download, according to DlCentral. The Megalodon Shark Cash Card, which costs $99.99/£64.99 in real world currency, instantly gives players 8 million GTA$ in the game.
Here's the card's description:
"Purchase the Megalodon Shark Cash Card to gain 8,000,000 in-game GTA dollars to spend in GTA Online. The biggest predator in history. Solve your money problem and help get what you want across Los Santos and Blaine County with the occasional purchase of cash packs for Grand Theft Auto Online. All purchased cash is automatically deposited into your character's bank account. Spend wisely, cash therapy is fleeting."
If that's a little too expensive for you, then here is an assortment of alternatives that you can pick.
Red Shark Cash Card, $2.99/£1.99 – 100,000 GTA$
Tiger Shark Cash Card, $4.99/£3.19 – 200,000 GTA$
Bull Shark Cash Card, $9.99/£5.99 – 500,000 GTA$
Great White Shark Cash Card, $19.99/£11.99 – 1,250,000 GTA$
Whale Shark Cash Card, $49.99/£30.99 – 3,500,000 GTA$
Megalodon Shark Cash Card, $99.99/£64.99 – 8,000,000 GTA$
All the above mentioned cash cards can be picked up from the US and Great Britain PlayStation stores.
Heists Coming Soon
The next title update of GTA 5 will activate Heists for GTA Online according to several reports. The news came days after Rockstar released title update 1.11.
Apparently, the 1.11 update brought in many of the required files for online heists, apart from the ability to purchase multiple apartments and even luxurious mansions. These files will be activated upon the release of the next update, which is 1.12. Read more about it here.