The Grand Theft Auto 5 (GTA 5) PC version is once again in the spotlight, as it goes up for pre-orders on Amazon German and the UK retailer, Gameholds.com. Though the game's PC pre-order listing briefly appeared on Amazon France, it was later removed following reports of GTA 5 PC release going viral on the internet.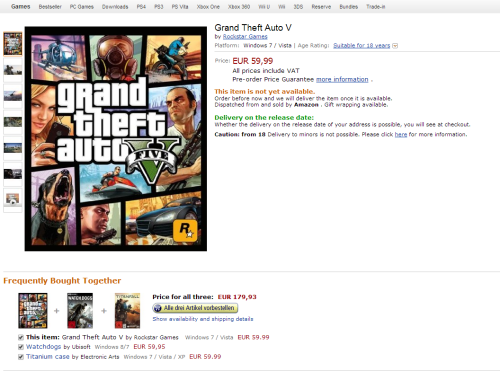 It is still unclear if the pre-order listing for the PC version of the game could mean anything as a similar listing appeared around the same time in 2013. Rockstar has been silent about the game's PC release and announcement, ever since the game released for PS3 and Xbox 360 consoles on 17 September.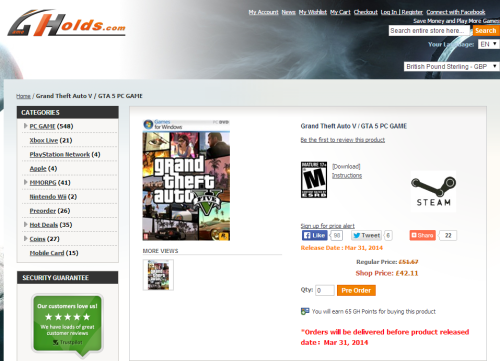 With Take-Two Interactive expected to announce its third-quarter earnings on 3 February, an impending PC release announcement for GTA 5 along with Xbox One and PS4 releases looks almost certain. If there is any truth to rumours and the past is an indication, expect the game to hit the PC platform around March 2014 as it completes six months from the date of the game's console release in September.
Besides, several game retailers, including the Brazilian retailer Nuveem and the UK retailer Gameholds, have been hinting at a March 2014 release for the PC version. The former points to 12 March for the PC release date, while the latter hints at 31 March.
A recently leaked in-game code and bug log report also suggests a probable PC release, besides an ongoing development work on PS4 with references made to "Orbis" (a code name for PS4 dev kit) and PC hardware configurations (support for DirectX 11 on 32-bit and 64-bit systems).
GTA 5 PC Pre-Order Price
Gameholds is currently offering the game (PC version) on pre-orders for £42.11, while Amazon German has a pre-order price of €59.99 (inclusive of VAT).