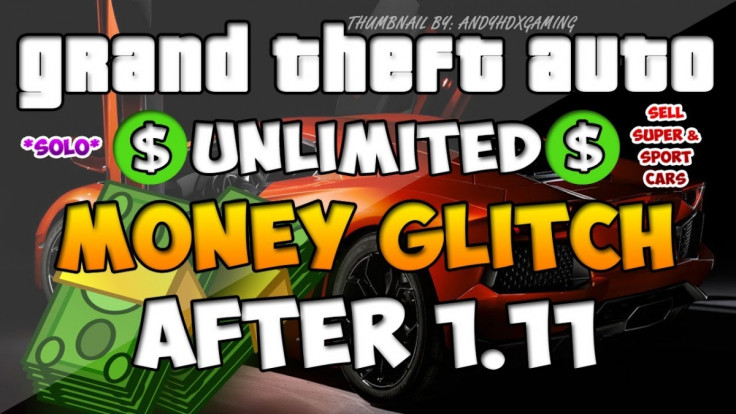 Discerning GTA 5 gamers have unearthed yet another unlimited money glitch via invisible car duplication bug in 1.11 Patch. The glitch reportedly allows GTA Online players to duplicate the same car multiple times within a few minutes and get rich in no time.
The invisible car duplication glitch actually combines all known unlimited money glitches found so far to make the ultimate car duplication glitch for earning millions of $GTA in quick time.
Tip #1: Duplicate the most expensive car in your garage as many times as you wish and sell them off one by one at the Los Santos Customs to become a quick billionaire.
A Reddit user, WhatsThisButton, has posted the step-by-step guide to duplicate the invisible car in your garage. Here is how you do it:
1) Enter your garage.
2) Get into the car you want duped and drive it out.
3) Steal a car off of the street ad return to your garage with it.
4) You should get a message that asks what car you want to replace, pick the one that you left on the street.
5) Walk out of your garage. Your car will be where you left it, still equipped with a tracker.
6) Enter the car and drive to your garage again. You will be asked to replace a vehicle. Press yes and no at the same time: X and O for PS3, or B and A for Xbox. Your car should now be invisible. If not, repeat this step again.
7) Drive away from your garage until your car becomes visible, then return to your garage once again, but don't enter with the vehicle.
8) Walk into your garage. After a few seconds you should be asked what car you want to replace. Replace the one that you stole from the street.
9) Walk out of your garage. Your car will be where you left it.
10) If you want to only duplicate it once, you can drive it into your garage.
Note: If you want to duplicate it more than once, simply repeat all of the steps, starting at when you make your car invisible.
Tip #2: If you encounter 50k error message while selling the dupes, it can be easily solved by using the clean tainted cars glitch as follows:
Clean Tainted Cars Glitch
Here is a simple trick from a Redditor, Zanzibarland, to clean tainted dupes or duplicated cars. In other words, get rid of the error message: "Sorry cannot sell over 50,000" using this tiny glitch.
Here is how you turn your tainted duplicate car into a legitimate car:
Enter your garage and ensure it is full, with all 10 slots occupied with cars.
Get in the driver's seat of your tainted dupe. Do not hit accelerate or move the car.
Go to the in-game phone's web browser and buy a Rebel.
When it asks you to replace a car, pick the car model you are currently in.
Then drive out the car immediately.
Now drive back the car inside the garage.
Congrats! Your tainted dupe is now clean and legit, and insured. You can now sell or duplicate it as you wish.
For further assistance, check out the video tutorial below:
Click here to read about GTA 5: YouTube Video Reveals Extreme Drifting Without Mods