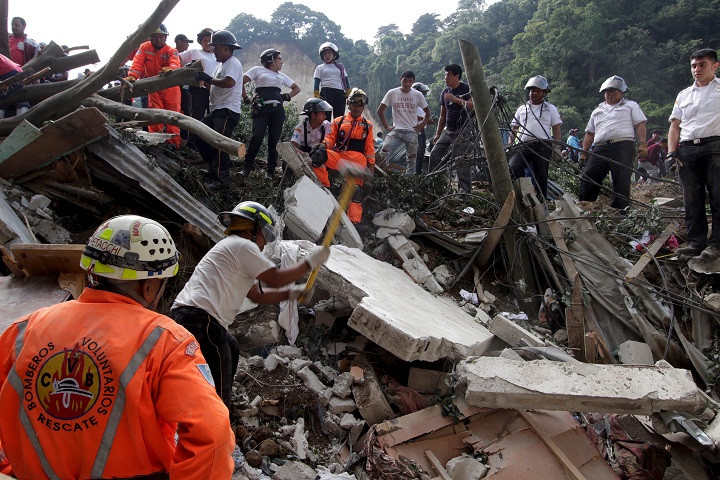 At least 26 people have been killed and 36 injured in a mudslide following the collapse of a hillside in Guatemala. Hundreds are still missing as rescue crews continue to search for survivors in homes buried under dirt and rock.
The mudslide occurred late on 1 October (Thursday) after heavy rains lashed the town of Santa Catarina Pinula causing the disaster in the village of El Cambray Dos, 15 km east of Guatemala City. Alejandro Maldonado, head of the National Disaster Mitigation Coordination (CONRED) in Guatemala, told a news conference that as many as 600 could still be missing after the disaster hit 125 homes. Maldonado said the estimate of the missing was based on the number of homes destroyed by the landslide.
Scores of rescue workers searched until nightfall to recover bodies from heaps of destroyed walls, beds and furniture churned up in the landslide. Rescuers called off the search late on 2 October because rains made it dangerous for emergency crews. The search will resume once the situation improves. Guatemalan media reported that municipal fire-fighters and volunteers could hear voices from those trapped by the landslide. Relatives of those trapped have also been receiving calls and texts from them.
Some of the rescue work pictures posted by the National Civil Police department in Guatemala on Twitter:
Rain across Guatemala during September caused heavy erosion hurling rocks across roads and uprooting trees onto parked cars. El Cambray is surrounded by steep hills that tower over the houses which are mostly in the valley bottom. The specific village affected by the disaster was mostly inhabited by poor families and many of the houses were built from sheets of metal and cardboard.
After the disaster, some of the homes in El Cambray not affected by the landslide were also abandoned by their owners for fear of further mudslides. CONRED has for now set up a temporary shelter nearby for homeless residents. The government in Guatemala said close to 500 rescue workers from the police, disaster authorities and volunteers were carrying out relief operations in the area.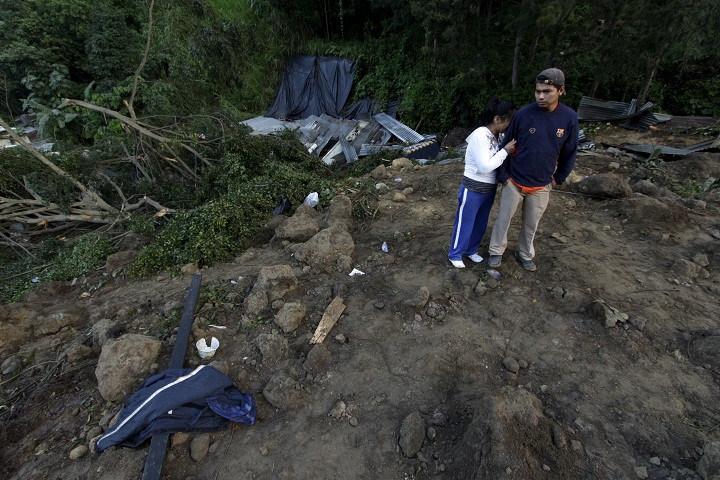 Among the reported dead was an 18-year-old junior Olympian squash player Qainy Bonilla. His body was recovered from a completely destroyed house, according to the Prensa Libre newspaper.