With one of the most awaited dates in the British party calendar just around the corner, excitement is already beginning to build in London. From 1966 onwards, the Notting Hill Carnival has celebrated London's vibrant Caribbean community around Ladbroke Grove, growing to become the biggest street party in all of Europe.
Colourful parades, mind-blowing (we mean loud) music and mouth-watering food (think sumptuous jerk chicken) make the Carnival a must-visit event each year. Here is a complete guide to making the most of the celebrations.
How did the Notting Hill Carnival originate?
While the Carnival is renowned for its festivities today, it first evolved from a social effort to stamp out increasing racial misunderstanding in late 1950s London. Two exemplary women, Claudia Jones and Rhaune Laslett, have been credited with coming up with the idea of a Carnival.
Jones, a Trinidadian and founder of the UK's first black newspaper, The West Indian Gazette, organised an indoor Caribbean Carnival at St Pancras Town Hall in 1959. It was televised by the BBC with the aim of closing the widening racial gap by educating people about Caribbean culture.
It was in 1966 that the first outdoors carnival was held at Notting Hill by Laslett, an admired social worker, in collaboration with the London Free School. This carnival was intended as a display of cultural unity with people from diverse countries and cultures participating including Ireland, India, Czechoslovakia, West Indies and Nigeria.
Trinidadian musician Russell Henderson played with his steel-pan band, leading the participants down the street of Notting Hill and so turning it into an impromptu carnival procession.
When is the Notting Hill Carnival?
Like every year Notting Hill Carnival will take place on the August Bank Holiday weekend. This year it will start on Sunday 27 August and end on Monday 28 August.
On both days the parade begins from 9.30am right until judging comes to a close at 6.30pm in the evening. After that, there's a strict noise curfew for 7pm.
What's happening on Sunday?
Early birds can catch the J'ouvert procession on Canal Way, Ladbroke Grove, between 6am and 9am. This one's a classic Caribbean event where people throw colourful powder, paint and melted chocolate on each other.
Sunday is the designated "Family Day" and will be much less booming compared to the first day. A lively children's parade will take place on Sunday along the carnival route and there's also a Family workshops at Emslie Horniman's Pleasance Park with a whole lot of tasty Caribbean food, drinks and entertainment.
The World Music Stage at Powis Square will light up with amazing calypso and soca performances by the Association of British Calypsonians and visiting international calypsonians as well as emerging artists of other genre.
What's happening on Monday?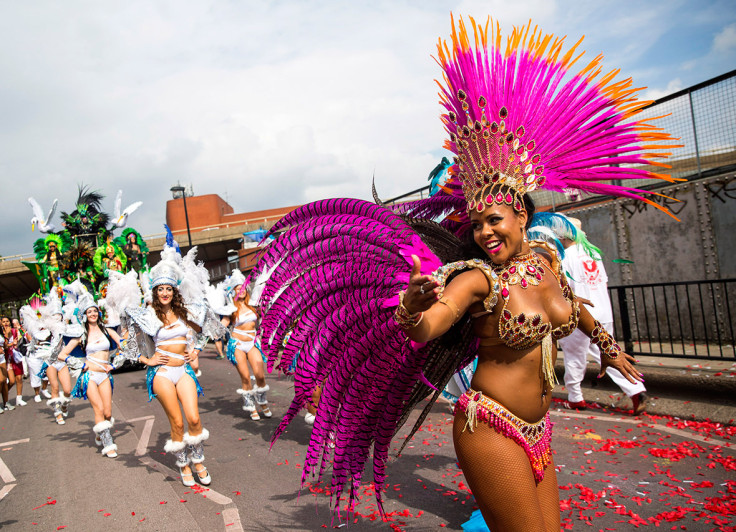 Monday is the Grand Finale so expect nothing less than a spectacular show. Over 60 flamboyantly dressed bands and colourful floats will masquerade down the parade route with 38 static sound systems blasting diverse genres of music.
There will be a minute's silence at 3pm on Monday in memory of the victims of the Grenfell Tower fire.
Are there any pre-events lined up before the Notting Hill Carnival?
A free open air evening at Emslie Horniman Pleasance Park called Panorama will be the ideal place to begin the party on 26th August, Saturday.
The evening will see a competition of national steel bands along with a whole host of other entertainment. The event starts at 6pm and goes on till 10pm.
What kind of music will play at the Notting Hill Festival?
An eclectic mix of Caribbean-inspired music will be played from the sound systems at various locations along the route. Genres like reggae and soca, drum and bass, blues, Latin, disco, R&B, dubstep, funky house soul, afro beat and more will echo throughout the Carnival's street.
What to eat and drink at the Notting Hill Carnival?
One of the best things to do at the Carnival is to enjoy the delicious Caribbean cuisines. Jerk chicken, of course, is the most famous of them all. Pork and curry goat, fried plantain, Jamaican patties, rice and peas and corn on the cobs are some of the other food stall favourites.
Rum flows generously at the Carnival each year. If you're looking for a non-alcoholic drink, coconut water is pretty refreshing.
What will the weather be like at this year's Notting Hill Carnival?
There will be no rains to play spoil-sport with sunny spells all through the weekend. The Met Office has predicted a warm 23°C of maximum temperature on Sunday. The final day will be much hotter with the mercury soaring to 27°C. Minimum temperatures will be 17°C on both days.
What is the Notting Hill Carnival route?
The parade will kick off on Great Western Road. It will then advance to Chepstow Road, Westbourne Grove and then Ladbroke Grove.
How to get to the Notting Hill Carnival?
Understandably, many tube stations surrounding the parade route will either shut early or be open for a limited time frame to avoid overcrowding. Tube stations that will remain undisrupted are Holland Park, High Street Kensington, Queen's Park, Shepherd's Bush, Bayswater and Paddington. The best way to get to the Carnival would be to be to get off at any of these stations and walk to the venue.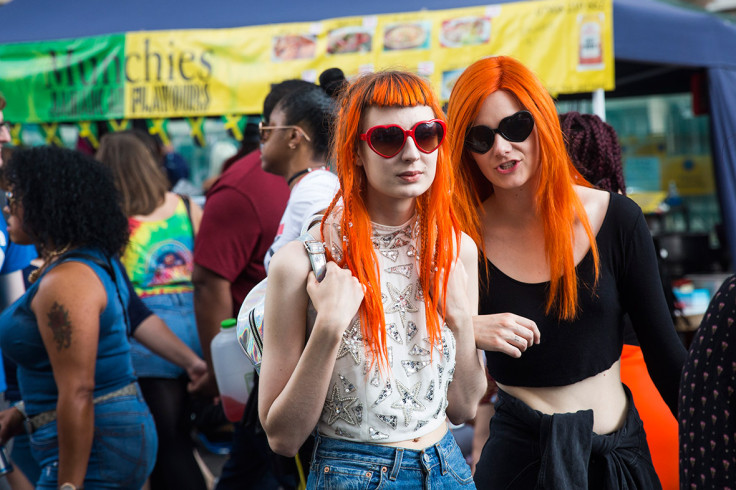 What are the planned closures on public transport during the Notting Hill Carnival?
Stations close to the Carnival parade route will be subjected to disruption with either early closure, exit-only or complete shut down.
Ladbroke Grove: Closed on both days.
Latimer Road: Closed at 11.30pm on both days.
Notting Hill Gate: Exit only between 11am and 7pm on both days with Circle and District line trains not making a stop here.
Westbourne Park: Exit only between 11am and 6pm on both days and closing at 11.30pm.
Holland Park: Exit only from 7pm on both days.
Royal Oak: Exit only between 11am and 6pm on both days and closing at 6pm.
Most of the overground network will be operating a normal timetable. A Saturday timetable will be followed on Monday.
No buses will be allowed to enter the Carnival area from Sunday morning until Tuesday morning.
Additional services will be in operation on routes 2, 36, 205, 436, 2X, 36X, 205X and 436X. There are planned diversions on night buses in the area as well.
Local docking stations will be suspended for the carnival so riding a bike to the area might not be a good idea.
There will be road closures on Sunday from 2am to 5am on Westbourne Park Road (between Great Western Road and Ladbroke Grove), Elgin Crescent, Kensington Park Road (between Westbourne Grove and Elgin Crescent), Cambridge Gardens (between St Marks Road and Ladbroke Grove), Lane restrictions on Great Western Road.
From Sunday 7am to midnight and from Monday 7am to Tuesday 5am the road closure boundaries will include Harrow Road in the north, Notting Hill Gate in the south, Clarendon Road in the west and Queensway in the east.
What safety precautions are to be taken when visiting the Notting Hill Carnival?
Crime rates at the Carnival have lowered in recent years, but there's no harm in taking some safety measures. Avoid carrying any valuables with you. You can use a lightweight beltbag or phones and other necessities. It's wise to bring enough cash to last through the day as nearby ATM's might run out of cash considering the number of people attending the Carnival. It's always a good idea to familiarise yourself with the route beforehand especially if you're new in town.
For parents attending with their kids, the authorities suggest writing phone numbers on the children's arms for emergencies, bringing food and water to prevent queuing up at food stalls and carrying ear plugs just in case the sound systems get too loud for them.
Why is Notting Hill Carnival shrouded in controversy this year?
The Met Police have been conducting raids ahead of the Carnival arresting more than 30 people so far. The arrests were predominantly made for possession with intent to supply drugs.
These raids have faced a backlash from the public including hip hop artist Stormzy. The UK grime star hit out at after the Met tweeted about drug seizures in the run up to the Notting Hill Carnival.
"How many drugs did you lot seize in the run up to Glastonbury or we only doing tweets like this for black events?" the rapper wrote, quoting a tweet from the London police "In the run up to #NottingHillCarnival, officers have this morning seized what is believed to be a kilo of uncut heroin in #Catford".