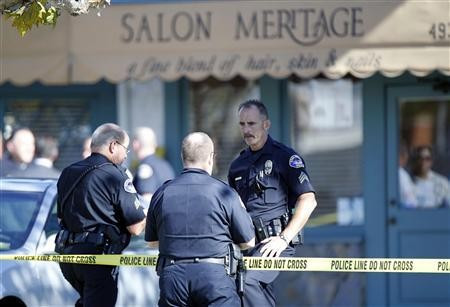 A gunman opened fire at a busy hair salon in Seal Beach, Calif., Wednesday, leaving eight people dead and another critically wounded.
The shooting occurred around 1:30 p.m. Pacific Time at Salon Meritage, when a gunman entered and began shooting at the stylists and customers.
The man fled the scene and was arrested by police a short while later. He was later identified by neighbours in Huntington Beach as Scott Dekraai, ex-husband of cosmetologist Michelle Dekraai, who worked at the salon - though his identity hasn't been officially confirmed. Two former salon employees said the Dekraais had gone through a bitter divorce and child custody fight.
"He shot his wife, then he pointed the gun at [another stylist]... I just saw one gun, but it didn't stop. The gun just kept going," said one eyewitness.
"It just caught everyone off guard and people started running outside to see what was happening," said Zach Benson, who was working at a nearby restaurant. "It was a very bizarre scene."
Six people were confirmed dead at the scene, and two later died of their injuries, said police. The victims haven't all yet been identified.
Seal Beach Police Sgt. Steve Bowles said the daylight shooting could be one of the "greatest tragedies" for the quiet Orange Country town, which only saw one homicide in the past four years.
"It's such a quiet little community. We don't experience things like this," said Cindy Spinosa, who works at Seal Beach Chiropractic Centre across the street from the salon. She said she and others were left shaken by the outburst of violence.
The gunman was detained in a white pickup van less than a mile from the scene of the crime, said police. He cooperated fully with police officers when they attempted to detain him.
Police said multiple weapons were found in the vehicle, though eyewitnesses report seeing only one used in the rampage.