Actress Gwyneth Paltrow believes she and her ex-husband Chris Martin have "contributed something positive" to divorce culture. The Hollywood couple famously announced their separation, or "conscious uncoupling", in March 2014 after 10 years of marriage but have maintained a close friendship and still consider themselves a family.
Following their split, Paltrow, 44, filed for divorce from the Coldplay frontman in April 2015 with proceedings finalised in July 2016. The formerly married couple have been pictured together multiple times since their separation and often enjoy days out with their two children, daughter Apple, 12, and son Moses, 10.
Reflecting on the closeness of their relationship despite the divorce, the Iron Man actress told In Style: "To this day, Chris would take a bullet for me. Even though I'm not his wife. I honestly think Chris and I have contributed something positive to the culture of divorce." She added: "He's at my house every single day. We have our own lives but we still have our family life."
Paltrow is now in a relationship with Glee co-creator Brad Falchuk, whom she was first linked with in August 2014. Addressing how her bond with Martin affects Falchuk, the actress stated: "He has his own version of it, his own family, where it's not a couple but it's a family." Falchuk shares two children, son Brody and daughter Isabella, with ex-wife Suzanne Falchuk.
In March, Martin opened up on the aftermath of his split from Paltrow and admitted he still experiences difficult periods. The Adventure Of A Lifetime singer told The Sunday Times that their separation was a "weird one", adding: "I still wake up down a lot of days. But now I feel like I've been given the tools to turn it around... You can come at it very aggressively and blame and blame. Or you can put yourself in the garage, so to speak. Take yourself apart and clean off the bits. Reassemble."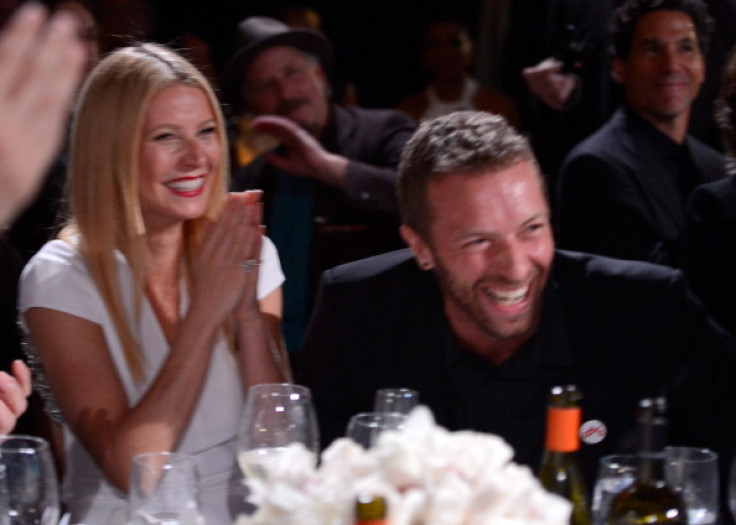 The British musician also said of the global attention which surrounded his divorce: "It's always out there in the media, but I have a very wonderful separation-divorce. It's a divorce but it's a weird one. It's funny. I don't think about that word very often – divorce. I don't see it that way. I see it more like you meet someone, you have some time together and things just move through. I've lived a lot of life since then."
After the collapse of his marriage, Martin has been linked with Hunger Games actress Jennifer Lawrence but is currently dating The Tudors star Annabelle Wallis.