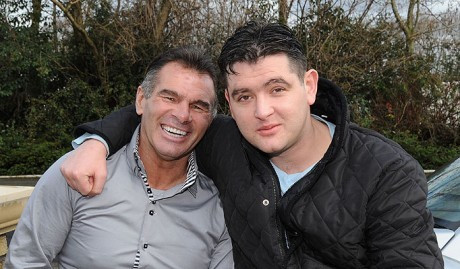 David Doherty, the son of My Big Fat Gypsy Wedding star Paddy Doherty has been jailed for causing the death of a close friend by careless driving.
The 27-year-old, of Queensferry, Flintshire, was sentenced to three years and 10 months at Mold crown court.
Doherty, who was disqualified from driving at the time of the crash, was banned from driving for a further four years.
He pleading guilty to causing the death of 28-year-old James Loveridge on the A55 near Bangor, Gwynedd in the early hours of 18 March.
The court heard that Doherty "wickedly" fled the scene after the crash which caused the death of Loveridge seriously injured four others.
Loveridge, a father-of-four from Elton, Cheshire, was a front-seat passenger in his own Mitsubishi Shogun which was being driven by Doherty.
Andrew Green, prosecuting, said that Doherty crashed into the back of a parked Renault van in a lay-by off the A55.
He stole a Land Rover Discovery and drove to the Riverside Traveller's Park, Queensferry.
Judge Niclas Parry told Doherty: "What followed can only be described as an act of sheer wickedness in what I consider to be an entirely separate act of criminality.
"Knowing what you had done, knowing your passenger was dead or dying, or at the very least seriously injured, you left without any regard for anyone else.
"You did not stay to call for assistance but you fled the scene.
"You stole another vehicle, for the second time that morning drove while disqualified and without insurance, in order to avoid detection. It also meant it was not possible for you to be tested for alcohol."