Hacked Moto 360 accepts incoming calls from iPhone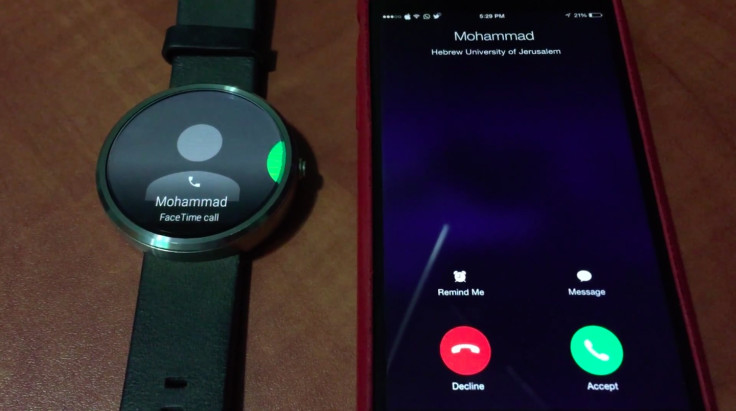 Renowned Cydia developer Mohammad Abu-Garbeyyeh has recently uploaded a video on YouTube that depicts an Android Wear accepting incoming calls from an iPhone, using the same APIs built into the iPhone 6 Plus.
The developer recently tweeted about his accomplishment along with the YouTube video link that reveals a jailbroken iPhone communicating and sharing the APIs with the Android Wear device, while accepting incoming calls from the phone via some gesture simulation.
However, it is ascertained that it is not mandatory to jailbreak the iPhone in order to facilitate the calling feature on the Android Wear.
The work is not yet available for public access, but the demo video (below) posted by the developer reveals a simple software trickery involving the gesture simulation to answer the incoming iPhone call on the Android Watch or Moto 360.
This feat has been made possible with the use of Apple Notification Centre Service APIs along with the installation of modified APK on the smartwatch. The best part of this hack is that it works on all Android Wear running smartwatches, besides all iOS 8 supported devices.
Avid Android Wear fans may be disappointed, as the required APKs and files are not yet available for public access, while there is no word on its estimated time of arrival either.
[Source: iDownloadBlog]
© Copyright IBTimes 2023. All rights reserved.