Police are looking to speak to two men after four boys aged 13 were sexually assaulted on their way to school in Hackney, east London. The teenagers were targeted while on a footpath in Lower Clapton Road at the junction with Atherden Road.
The incident, which took place at about 8am on 8 July 2015, saw two men approach the boys and sexually assault them. All four were able to escape and inform their school of what had happened.
A witness has since provided detectives with information relating to a separate offence whereby the same two men are believed to have sexually assaulted two schoolgirls close to where the first incident took place.
Scotland Yard has released CCTV footage of two men they would like to locate. Police are appealing for any further victims and witnesses to come forward.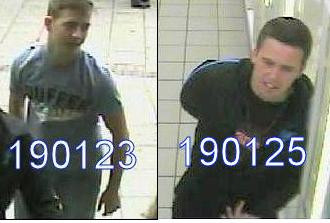 The first suspect is described as a clean-shaven white man, in his twenties, and of medium build. He has short, light brown hair and was wearing a black hooded jacket, black tracksuit trousers with light blue stripes and dark trainers.
The second suspect is described as a white man, also aged in his twenties, and of medium build. He has short blond hair and was wearing a white shirt and blue jeans.
Detectives are keen to hear from anyone who may recognise the two men or who believes they may have witnessed the incident.
Anyone with information is asked to contact DC Edward Lewis – quoting reference number 190125 (suspect 1) or 190123 (suspect 2) – on 101 or 07500 850625, or Crimestoppers anonymously on 0800 555 111.