With more than a dozen Filipino protest groups gearing to hail the outcome, an international tribunal is set to announce its eagerly awaited and crucial verdict on the South China Sea territorial claims shortly. The case was brought to The Hague by the Philippines in 2013 challenging Beijing's unilateral claims.
Tensions remain over the judgement as several nationalist Filipino groups promised to hold a "victory party" in Washington, New York, Tokyo, Paris, London, and Vancouver expecting a favourable verdict. The tribunal is widely expected to rule against China over its assertions in the region.
The Philippines' New Nationalist Alliance, a leftist outfit, staged a demonstration outside the Chinese diplomatic mission in capital Manila and promised more rallies later in the day today, 12 July, subsequent to the ruling.
"We celebrate a ruling that reinforces our rights over our own resources," said Vonz Santos, one of the leaders organising the rallies, reported the Strait Times. The case has been filed under the United Nations Convention on the Law of the Sea (Unclos) but the arbitration tribunal has no powers to enforce the ruling.
Beijing claims most part of the South China Sea along with its mineral-rich islands and reefs while multiple nations including Malaysia, Brunei, Vietnam, and the Philippines lay overlapping claims. Beijing has so far refused to participate in the international court's legal proceedings and insisted it will not accept the verdict as well.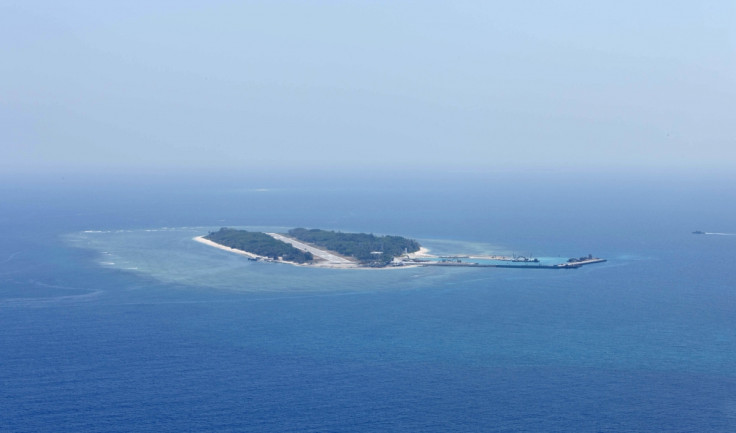 Meanwhile, US Defence Secretary Ash Carter spoke to his Philippine counterpart Delfin Lorenzana, who has recently taken over as the defence secretary, prior to the verdict. Concerns have also been raised that Beijing could turn more aggressive in its sovereign claims angered by the imminent ruling. Chinese forces have also been involved in muscle-flexing maritime exercises and live-fire drills in the region in the run up to the verdict. There have also been a slew of commentaries and articles on China's state-run mouthpieces prior to the verdict heaping scorn on the US and its ally the Philippines while defending Beijing's stance.