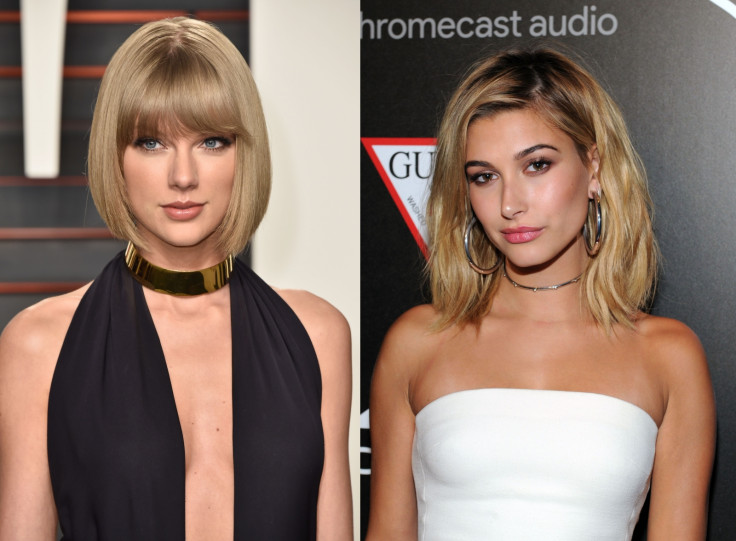 Model Hailey Baldwin recently made a snide remark against pop star Taylor Swift and her famous girl gang saying that she doesn't understand the point of having a squad at all. Although the 20-year-old model shares some famous friends with the pop star – Gigi Hadid and Kendall Jenner – yet she doesn't seem like one to boast a squad any time soon.
"I don't know what having a squad means. I just have my friends and that's it," the daughter of actor Stephen Baldwin said in a new interview for Yahoo7 Be, seemingly throwing shade at the 26-year-old songstress.
"I don't think that you need to create a public squad. I don't know what that proves. So I don't really understand the Taylor Swift squad at all," the promising star said while promoting her new cosmetic range with ModelCo in Australia.
Having said so, the model went on to dish about her intimate birthday celebrations with her close group of friends as she recently turned a year older on 22 November.
"I was just with some of my really close friends - my sister, my cousin - and we just did a little 48-hour trip," she told the website adding, "We were in Canada and it was just low-key and fun and it was exactly what I wanted."
Unlike Baldwin, Swift is known for her flamboyant get-togethers, whether it be for her award show appearances or walking the red carpet with her dearest Selena Gomez. The Blank Space hitmaker's elitist circle also includes A-listers such as Karlie Kloss, Lorde, Cara Delevingne and Ruby Rose among many others.
This is, however, not the first time that Swift has been called out for curating a squad of women. Singer Demi Lovato called out Swift's girl gang during an interview with Glamour magazine for representing unrealistic body image."I don't see anybody in any sort of squad that has a normal body. It's kind of this false image of what people should look like. And what they should be like, and it's not real," she said.