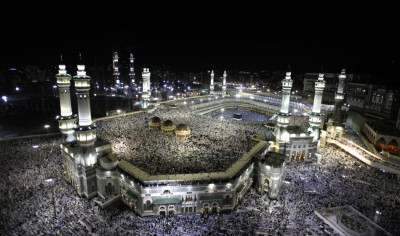 More than 1.5 million Muslims have already arrived in Saudi Arabia for the annual Hajj pilgrimage. Pilgrim numbers are limited by the Saudi government, who have in the past had difficulties dealing with the huge numbers of people who flock to the country's holiest sites. The vast crowds have caused security issues in former years, such as the 2006 stampede which killed hundreds of worshippers.
Hajj, one of the five pillars of Islam and required by all Muslims able-bodies enough to perform it, officially begins on the eight day of the lunar month of Dhul Hijja, which falls this year on Friday, November 4. Most pilgrims, however, arrive early in order to visit mosques in the holy cities of Mecca and Medina, where the prophet Muhammed is buried.
This year's Hajj season comes at a turbulent time for the Middle East, and the last few months have seen mass popular uprisings in the region that have unseated three long-time dictators and threatened the power of several more. King Abdullah has so far quashed any attempts at similar revolts in the Gulf Kingdom, but will no doubt be nervous about the mass influx of Muslims from other countries.