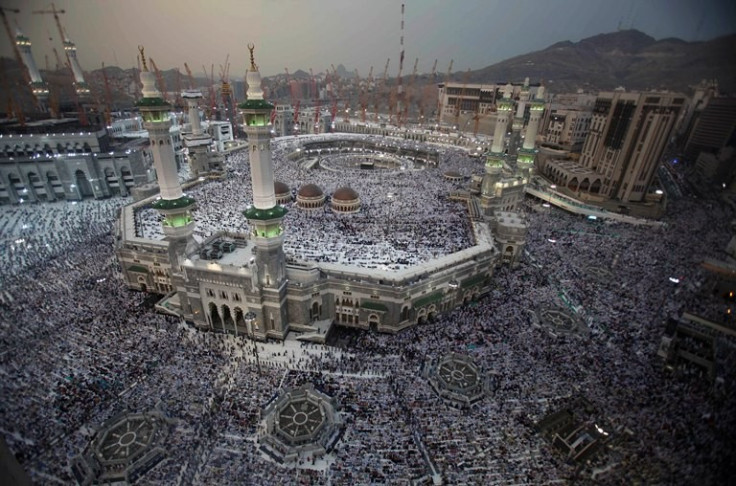 Up to two million Muslims are in Mecca, Saudi Arabia to celebrate Hajj, which takes place from 13-18 October. The pilgrimage is one of Islam's five 'pillars of faith' and all Muslims who are physically and financially able to do so are expected to make the pilgrimage at least once in their lifetime. As Islam follows a lunar calendar, the date of the Hajj varies from year to year.
In 2012 it was estimated that over three million attended, but this year the figure is likely to be smaller following the introduction of stricter restrictions.
The huge annual influx of visitors has led to several major disasters in the past. On 2 July, 1990, an estimated 1,426 pilgrims died following a stampede in a pedestrian tunnel; in 1994 at least 270 were crushed during a ritual; 346 died near Jamarat Bridge on 12 January 2006; and in 1998 118 were trampled to death, also on Jamarat Bridge.
Authorities claim to have made the pilgrimage safer this year, with Prince Khaled al-Faisal, Emir of Makkah region, saying eight hospitals and 96 medical centers have been established to deal with medical emergencies, including Middle East respiratory syndrome coronavirus (Mers-CoV), following the death of two men in Riyadh.
Saudi authorities have deployed 26 Civil Defence units around Mecca to deal with any accidents or emergencies, but have been criticised for employing G4S to oversee security at Hajj. Muslim groups complain that G4S also operate in the Occupied Territories on behalf of Israel and on 4 July an early day motion was tabled in Parliament condemning G4S's conduct in Israel/Palestine.
During this year's Hajj, police have been turning away vehicles from the area and turning back anyone not carrying the correct papers, partly due to fears of terrorism but also because of planned construction work around the Central Mosque. Following reports that members of the Egyptian Muslim Brotherhood are calling on followers to pledge their support at Hajj, Saudi authorities have pleaded with Muslims not to politicise the event.
Interior Minister Prince Mohamed bin Nayef said: "The kingdom is taking all possibilities seriously especially that Saudi Arabia has recently been the target of a violent terrorist campaign that did not exclude holy sites. Hajj is not a place for political disputes and sectarian differences."
READ MORE:
Hajj 2013: Police Issue Warning to Pilgrims over Fake Travel Companies [VIDEO]
Hajj 2013: Saudi Arabia Installs 1,700 CCTV Cameras to Monitor Mecca Pilgrims
British Muslims Warned Against Rising Hajj Fraud Packages
Hajj 2013: Egypt Urges Saudis to Deport Muslim Brotherhood Supporters