Halloween Costumes 2014: Sexy Ebola Nurse, Pedobear, Radical Cleric and Other Bad Taste Outfits
It's almost Halloween, but in 2014 it's not enough to shock your friends and family by donning a Nazi uniform - this season the bad taste costumes are stretching to include sexy Ebola hazmat suits, terrorist figures, and memes from notorious message board website 4chan.
Join IBTimes UK as we look at this year's top Halloween costumes that are just wrong:
1. Sexy Ebola Nurse Costume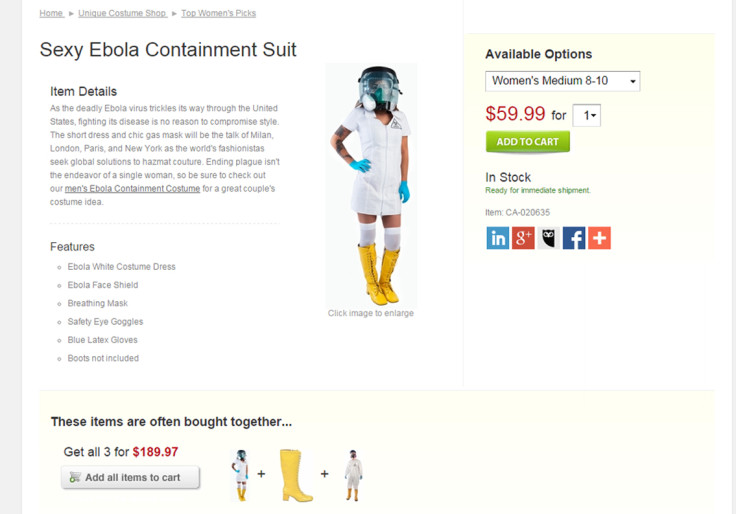 This costume might not be as bad as the Ebola Chan costumes floating around that are inspired by the 4chan meme, but it's still fairly tasteless.
Sold by brandsforsale.com in the US, the costume description reads: "As the deadly Ebola virus trickles its way through the United States, fighting its disease is no reason to compromise style. The short dress and chic gas mask will be the talk of Milan, London, Paris, and New York as the world's fashionistas seek global solutions to hazmat couture."
2. Radical Cleric Costume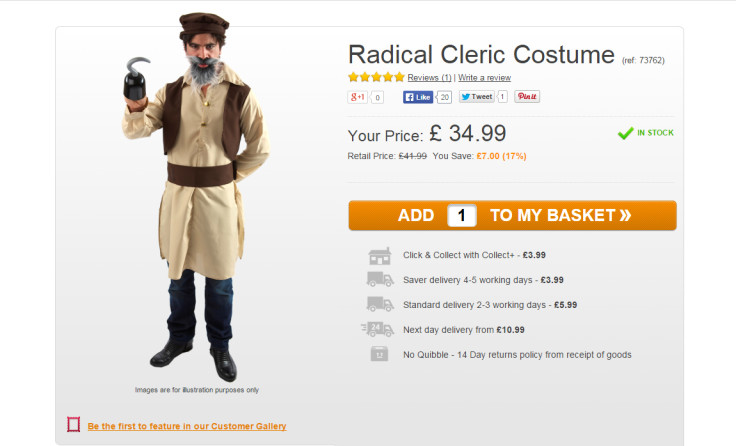 This Halloween, you can remind everyone about the atrocities committed by Islamic State (ISIS) or any of the other Islamist groups causing havoc in the world by dressing up as a radical cleric.
The costume comes complete with a big beard and a hook for a hand, so you can perform your favourite Abu Hamza diatribe, as well as a bomb belt and dynamite for the more hands-on jokes.
3. Deluxe Pathogen Hazmat Suit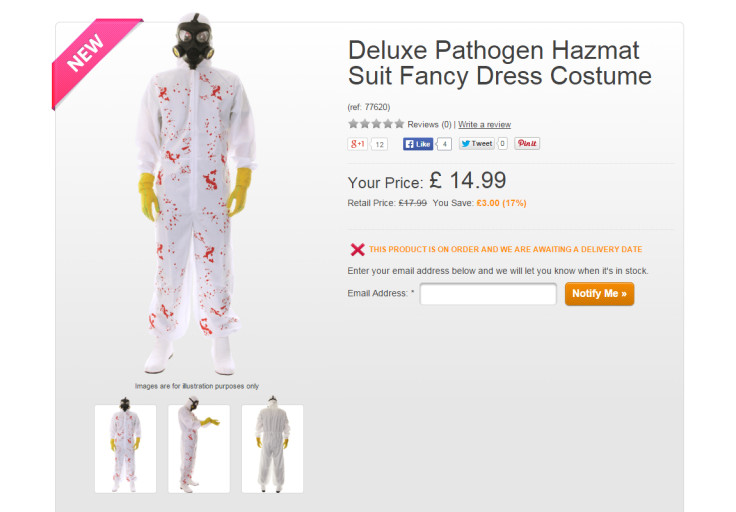 If you're looking for matching couples' costumes and your partner is going as the sexy Ebola nurse, you could always join them in the deluxe pathogen hazmat suit. Of course, you could also just make your own one by getting a painter's boiler suit and a gas mask, and splattering everything with red paint.
4. Farmer and Ewe costume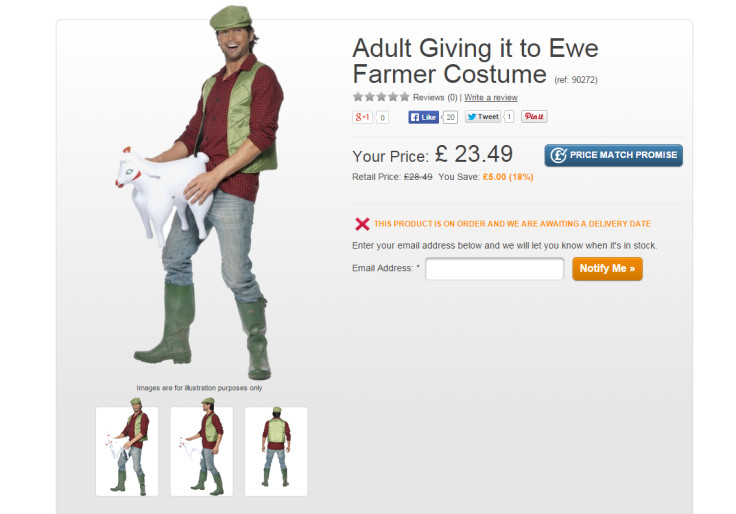 This Halloween, you could decide to dress up as a farmer – in particular, one that is very fond of his sheep.
This costume unfortunately doesn't come with jeans or wellies, you'll have to provide them yourself.
5. Pedobear costume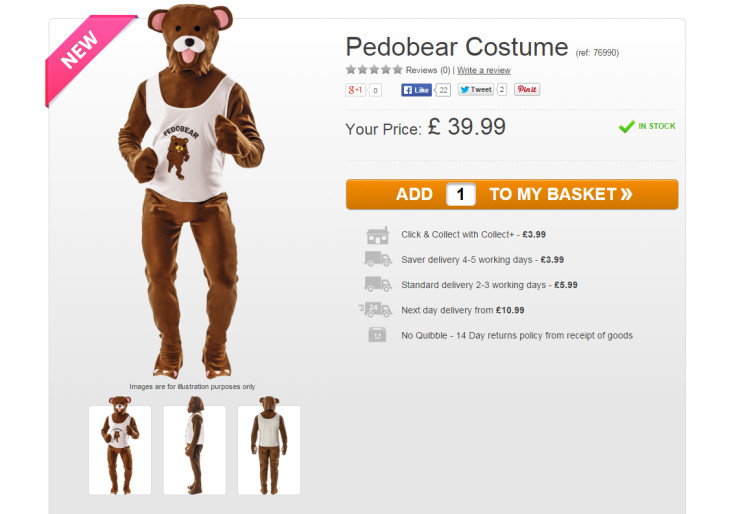 The Pedobear costume is designed to look like a character representing paedophiles that started as a meme on the notorious 4Chan message board website. Of course, the joke is that if you don't know what it represents, you might just assume it's a cute cartoon bear.
6. Osama Bin Laden costume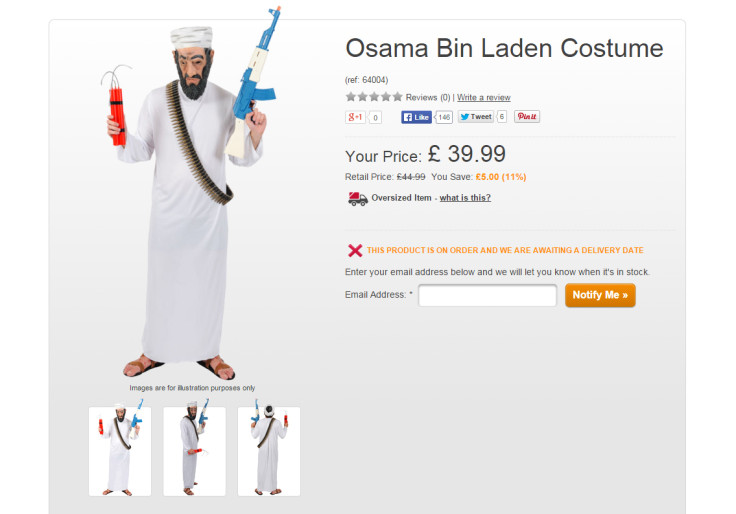 It's a been over three years since Osama Bin Laden was found and killed by the US military, but the infamous terrorist who once topped the FBI's Most Wanted Fugitives list, is still topping the Halloween dress-up idea lists.
The costume comes with a mask in his likeness, a headdress, a toy AK47 rifle and ammo belt, and some pretend sticks of dynamite.
7. The Big Pink costume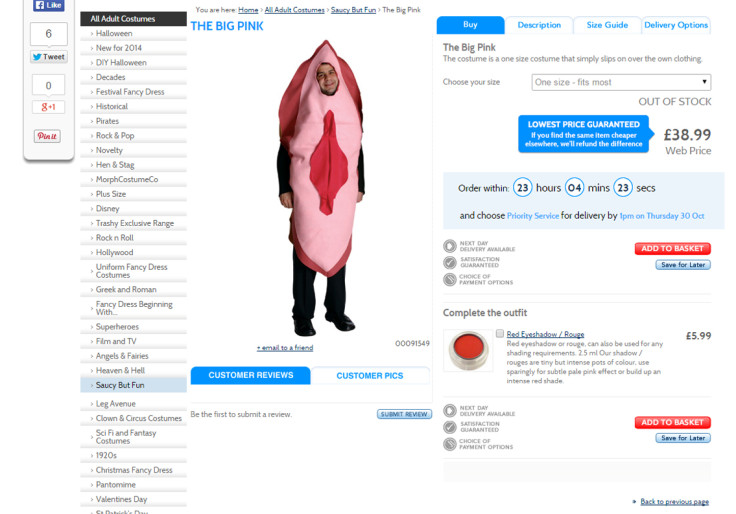 If you are so inclined, you might decide to dress up as a female sexual organ for Halloween.
According to Angels Fancy Dress, the costume is a one-size-fits-all outfit that slips on over other clothing.
8. Caribbean Dictator costume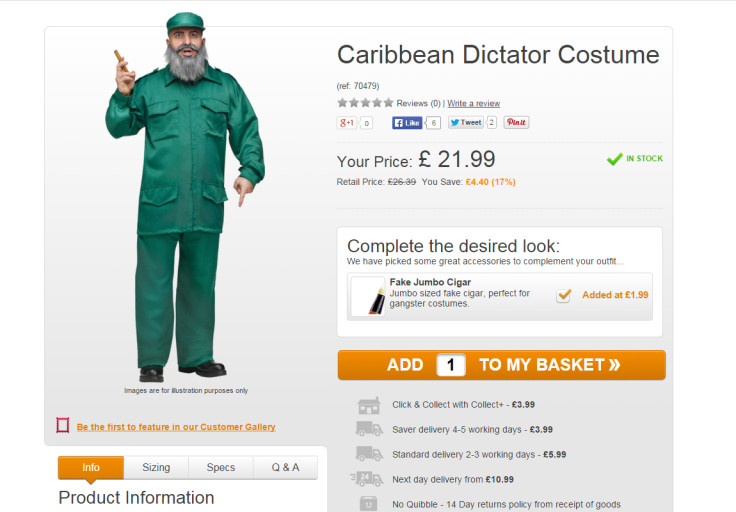 Always fancied living the life of a Marxist-Leninist Cuban dictator? Well you can make-believe by purchasing this Caribbean Dictator costume, which could also be used as the basis for a Saddam Hussein costume, if you prefer a Middle East theme.

9. Spliff costume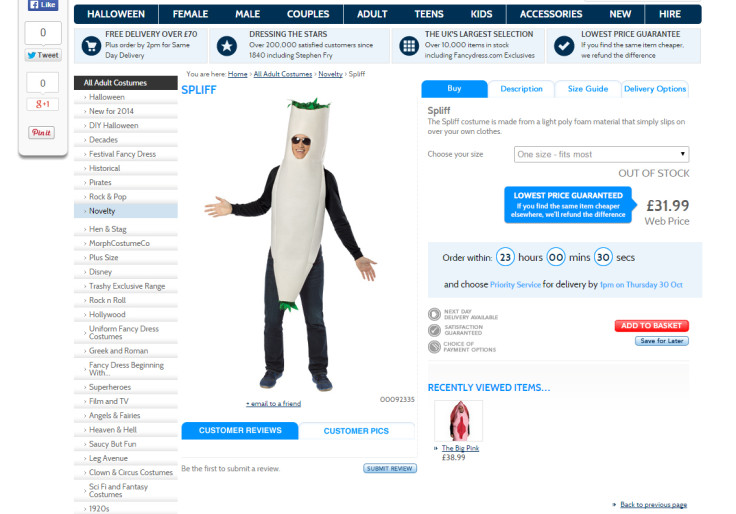 This costume is probably the most tasteful of the lot, allowing the wearer to walk around looking like a giant spliff of marijuana.
Whatever your motivation for wearing this costume, you'll be the highlight of the party.
© Copyright IBTimes 2023. All rights reserved.