"Grand Theft Auto 3" is now available on the iPhone, iPad and iPod touch, as developer Rock Star Games released an iOS version of the hugely popular PlayStation 2 game.
Released in 2001, "Grand Theft Auto 3" was the first game in the series to use 3D graphics; previously GTA games used a two-dimensional, top-down view of the gameplay.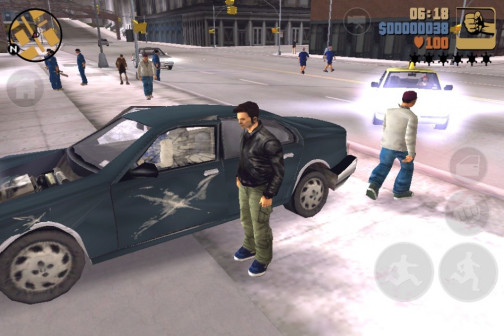 Rather than being a direct port of the original, GTA 3 for iOS is an edition that Rock Star has released to celebrate the game's 10th anniversary.
The game is available on the AppStore for $4.99 in the U.S. and £2.99 in the UK, but make sure you have plenty of space as it weighs in at just under 500mb.
We've had a play with GTA 3 on an iPhone 4S and can report that the game runs just as well as you'd expect and the driving is very familiar to anyone who has played GTA games before. The game even has the range of comedy radio stations that have become a popular feature of all GTA games.
Damage while driving is good, with steam pouring from the car after crashing and eventually doors and other parts fall off and eventually the car bursts into flames and explode if you crash too much.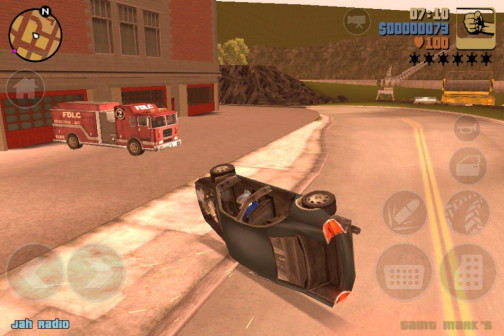 Of course, it goes without saying that a huge, graphically intensive game like GTA3 eats through battery life in no time and in testing we found that 10 minutes playing reduced our iPhone 4S battery by about 7 per cent.
It's amazing to think that ten years ago GTA 3 was a blockbuster game on the PlayStation 2 retailing for £40 and now the same game can be played on a smartphone for just £2.99.
Apple blog MacRumors has posted a 25-minute video of Grand Theft Auto 3 (below) being played on an iPad 2. Initially it was thought that GTA3 - due to its size and complexity - would require the duel-core A5 chip of the iPad 2 and iPhone 4S, but the game is reported to work fine on the less powerful iPhone 4, fourth-generation iPod touch and the original iPad.