It seems like the typical three-courses is just enough for NBC, as the broadcaster confirms it is opting out of keeping horror series Hannibal on air, cancelling the chance of further seasons, due to its slowing ratings.
The critically-acclaimed show joins a host of programmes that have been sent to the chopping block in the past few months, putting it in with the likes of Constantine, One Big Happy and State Of Affairs that have been pulled by the network.
Season three, the next episode of which will air on 24 June, will finish in its entirety in August in its usual Wednesday night slot but after that the fate of the well-loved show is up in the air. Will a more internet-based platform such as Netflix or Amazon Instant Video take it on given its huge 'Fannibal' fanbase?
Based on the characters in Thomas Harris' novel Red Dragon, the series stars Hugh Dancy and Mads Mikkelsen as gifted criminal profiler Will Graham and Dr Hannibal Lecter, who is treating Graham psychologically due to his unusual episodes throughout past FBI cases.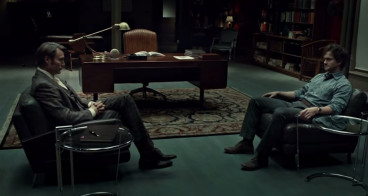 In light of the news, Hannibal creator Bryan Fuller remained thankful for the run that the network provided the unique show. "NBC has allowed us to craft a television series that no other broadcast network would have dared," he said.
"[It has] kept us on the air for three seasons despite Cancellation Bear Chow ratings and images that would have shredded the eyeballs of lesser Standards & Practices enforcers.
"[Entertainment president] Jen Salke and her team have been fantastic partners and creatively supportive beyond measure. Hannibal is finishing his last course at NBC's table this summer, but a hungry cannibal can always dine again. And personally, I look forward to my next meal with NBC."
After the announcement, NBC also released the statement: "We have been tremendously proud of Hannibal over its three seasons.
"Bryan and his team of writers and producers, as well as our incredible actors, have brought a visual palette of storytelling that has been second to none in all of television — broadcast or cable.
We thank Gaumont [International Television, which produced the series] and everyone involved in the show for their tireless efforts that have made Hannibal an incredible experience for audiences around the world."
However, despite the cancellation, fans of the show are not quite ready to have Hannibal off their screens yet. Almost immediately, a petition to resuscitate the series appeared on Change.org, which currently has 13,000+ signatures at the time of publication.
Additionally, during the night, Twitter was brimming with the hashtag #SaveHannibal led by Fuller and executive producer Martha DeLaurentiis, which was supported by a number of celebrity fans and ended up trending in countries such as France, Greece, Mexico, Korea, Saudi Arabia and Ukraine.