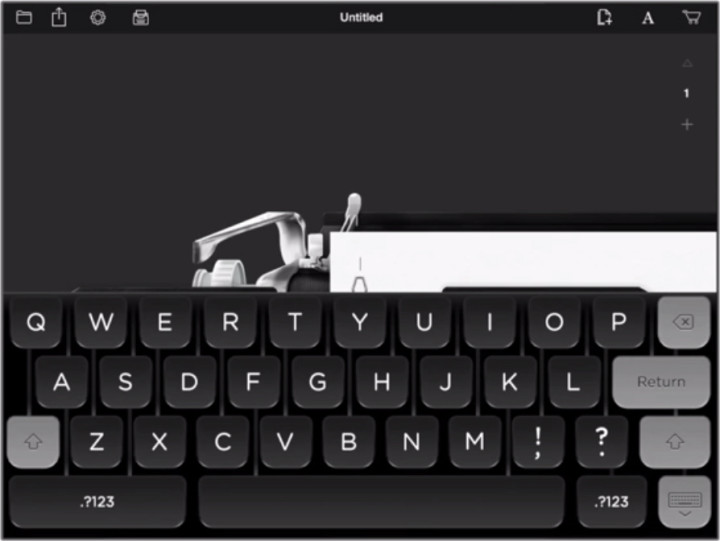 Academy Award-winning actor Tom Hanks has decided to turn his hand to something new and created a typewriting iPad app called Hanx Writer.
Hanks, who has previously expressed his great love love for traditional, old-school typewriters, developed the app in partnership with Hitcents. The actor once had about 200 typewriters in his collection.
The app impersonates the features of a typewriter, but features keys laid out in your typical qwerty keyboard.
However, when you press down on the keypad there is the distinctive clickety-clack sound that the typewriter is famous for, along with various other nostalgic noises such as thuds, dings and whooshes.
Thankfully, the Hanx Writer includes a delete key, the one thing that was frustratingly absent in the old-fashioned models.
Hank's vision was to create a functional tool that people can use on a day-to-day basis, for individuals who want more than just a standard keyboard experience.
"I suppose some people who get the app may just be looking for a different sound, but really, it's for people searching for a more personalised experience when writing on an iPad," Hanks told USAToday.
"There's also the opportunity here to take your iPad to a coffee house and be really obnoxious with all the clickety-clacking."
The actor celebrated the apps' release with a live Q&A and a tweet from his personal Twitter page. Although, it's a shame that it pictures him with a laptop rather than a typewriter.
In the app, users can create and save new documents, including adding polaroid-style photographs, as well as printing them out.
The app is free, but comes with in-app purchases that include different fonts (in case you don't like that traditional old-school font) and customisable virtual typewriters in different colours (the app comes with a standard black and white keyboard), costing between $2.99-$4.99 (£1.79-£2.99).
Hanx Writer was only released yesterday on the iTunes app store but already has 629 reviews with a 4-star rating.