The fall-out from Harry Redknapp's sacking as manager of Tottenham Hotspur could impact as early as this summer, with both Luka Modric and Gareth Bale considering their future at White Hart Lane.
After four-years at the helm in north London, Redknapp, who took Spurs from the bottom of the Premier League to the Champions League within 19 months of taking charge, was sacked on Thursday after failing to qualify for Europe's premier club competition last season.
And the repercussions from Redknapp's departure could be felt immediately, with both Modric and Bale appearing on the brink of leaving Tottenham.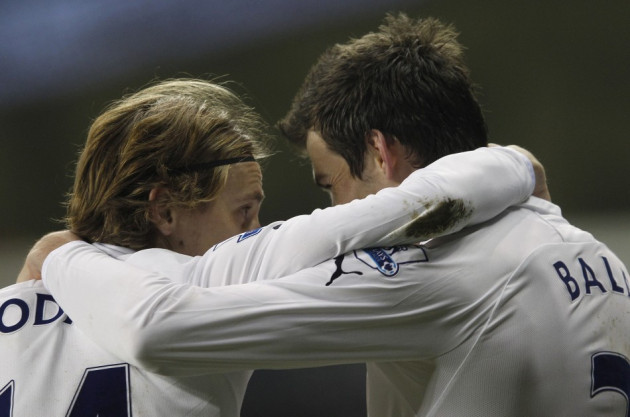 Modric came close to leaving Spurs last summer; submitting a transfer request and demanding a move to London rivals Chelsea, however chairman Daniel Levy and Redknapp held firm, eventually retaining the player for the new season.
As rumours of Modric's departure fail to abate, the playmaker has confirmed rival clubs are interested in his signature.
"There are all sorts of rumours still circulating," Modric told Croatian website Gol.hr.
"I'm not saying that the clubs are not interested, but I'm still under contract with Tottenham."
Club and international team-mate Vedran Corkluka is expecting the Croatian midfielder to again seek to leave the club this summer.
"We all know it will be very difficult for Spurs to keep him because there is not Champions League football there next season," said Corluka.
"Luka Modric is one of the best players in the world, and that sort of player always wants to play in the best competition. This tournament is a great chance for everyone to see how good Luka is. It is a platform for him.
"Not getting into the Champions' League will cost Spurs next season. Even though they were unlucky to get fourth and still not be there.
"I have followed with Luka Modric the stories about him moving from Spurs and that is just a reflection of what a great player he is for Spurs and for Croatia.
"Luka showed some loyalty last season by staying at Spurs when other teams wanted him. I only wish Luka the best for him. If he wants to go, fine; if he stays, then fine too."
The 22-year-old Bale, is the second player whose future following the sacking of Redknapp appears uncertain.
Despite insisting he wishes to see out the remainder of his contract, which expires in 2015, the Welshman is said to be concerned by the club's inability to qualify for the Champions League for a second successive year.
Spurs were edged out of Champions League qualification, firstly as they suffered a dramatic dip in form following Redknapp being found not guilty of tax evasion, and secondly as Chelsea won a dramatic European Cup final against Bayern Munich, which saw The Blues qualify as holders ahead of the Premier League's fourth placed side
While talk continues of a potential move to Barcelona, his agent Jonathan Barnett admits that while the Catalans have made no contact concerning the winger, the lack of top European competition is a major issue.
"Yes, it is clear that this is a problem," said Barnett.
"The big European clubs already know how much it would take to do the operation and therefore if you are interested you know what kind of offer has to be put on the table."
"To my knowledge, the club [Barcelona] has not made any offer for him," he added.
"If interested, they would have to put money on the table and then start talking. But it seems that the club is working on the signing of Jordi Alba, a cheaper option."