He is one of the most celebrated movie directors in recent times so it comes as no surprise that Quentin Tarantino went the extra mile for his greatly-anticipated new film The Hateful Eight. Greg Nicotero, director and special effects make-up producer on TV series The Walking Dead, worked on the western thriller and reveals the extent to which Tarantino pushed for creating authentic scenes.
The Hateful Eight follows bounty hunter John Ruth, played by Kurt Russell, who winds up stranded in a Wyoming blizzard with his captive Daisy Domergue, played by Jennifer Jason Leigh, resulting in encounters with a group of interesting characters. Nicotero has worked on an array of Tarantino films including Reservoir Dogs and Django Unchained but says The Hateful Eight may be one of his most memorable experiences.
Nicotero told the IBTimes UK: "I've worked on all of Quentin's movies, we've done all his films. Every one of them is an exercise in sheer dedication. We shot two months in Colorado on the side of a mountain [for The Hateful Eight] and then went back to Los Angeles and shot the rest of the movie on a soundstage that was refrigerated to 29 degrees, so you can see the characters' breath. In a world where they could have just put it in digitally, Quentin was like, 'No, the actors have to feel it'. Everyone has to feel it. It's one of my favourite scripts of his."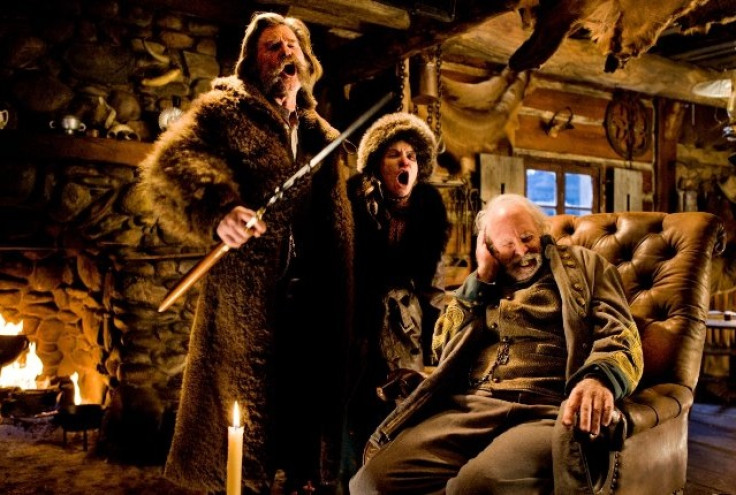 The movie also stars Samuel L Jackson, Tim Roth and Bruce Dern and Nicotero promises their characters will be just as fascinating as those who have made Tarantino's other films so iconic. Nicotero said: "He's crafted a movie that feels like a stage play, takes place all in one location.
"It's just filled with typical Tarantino colourful characters and – most of them have an untimely end due to me and Quentin's crazy imagination – but it was a joy. I've been on-set with him for most of his movies and it's been fun to be in the trenches in Inglorious Basterds and be there with Pulp Fiction. The night that [John] Travolta stabbed Uma Thurman with the adrenalin needle, I was kneeling, like, five feet away going, 'This is cool!'"
Watch The Hateful Eight trailer:
Through their close working ties, Nicotero, 52, has built a strong friendship with Tarantino, also 52, and praises the director on his work ethic. Nicotero explained: "It's so much fun working on movies with Quentin because it's just about the sheer effort it is to make a movie. I always equated that I had the best film school in the world, I've been on the movie sets of some of the biggest films in the last 30 years."
He added: "I've worked beside [Steven] Spielberg, Frank Darabont, [Robert] Rodriguez, Quentin Tarantino, Wes Craven and John Carpenter and the best directors in the world. I feel like that's the best training ground. The fun thing about Quentin is that after I directed my first episode of The Walking Dead, we went right on to shooting Django Unchained and the first day we went on set, he said, 'Alright, tell me about directing'. He wanted to hear my impressions of what it was like to direct. He loves the art form so much. I thought, 'You know how to direct, what do you want to talk to me about?' But he's just that enamoured with it."
The Hateful Eight hits UK cinemas on 8 January 2016.