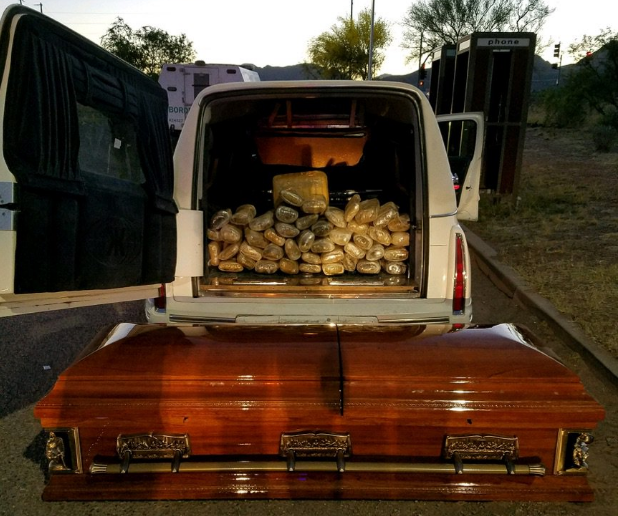 Arizona Border Patrol seized 67 pounds of marijuana concealed in a casket, driven by a hearse on Saturday (29 April) evening. They arrested a 28-year-old American man on suspicion of narcotics smuggling.
Willcox Border Patrol agents made the haul at an immigration checkpoint close to the US-Mexico border at Tombstone, near Tucson. Sniffer dogs had alerted them to the vehicle.
During an inspection of the white hearse, agents opened the plush wooden casket to discover dozens of bricks of marijuana, weighing 67 pounds and thought to be worth around $33,000 (£27,000).
Arizona Border Patrol said in a statement that the casket also contained bags of manure, intended to disguise the smell of the cannabis.
Remarkable images show a large number of tightly packed marijuana sitting in the back of the hearse after agents had removed them from the casket.
In a statement yesterday (1 May), Arizona Border Patrol said they had seized $197,000 worth of drugs over the weekend.
US President Donald Trump says he intends to build a wall across the US-Mexico border, in part to stem the flow of narcotics and contraband into the US from its southern neighbour.
In January, the Mexican government welcomed a US official's suggestion that drug cartels should be forced to pay for the structure. Trump has claimed on numerous occasions that he will make Mexico pay for it.